Last Updated on September 27, 2018
Creating an Instagram wall for events can turn attendees into your best photographers, marketers, and ambassadors.
When attending any event, whether it's a wedding, a 5k, a fundraiser, or a conference, there's one thing attendees look forward to most after curtains have closed — the photos! Thanks to hashtags, attendees can self-sort pictures from events on their phones, but some of the savviest event planners are now creating an Instagram wall for events.
The basis of creating an Instagram wall for events is pretty straightforward in its execution; planners will hang a large projection screen or TV on a wall with a sign for the designated hashtag, and on the screen, you'll see a collage of Instagram posts showing up in real time. It usually causes a bit of excitement, because people are natural voyeurs and will rush to get photos of their favorite cocktails, friends, and fun up on the wall at the event. Photo booths were so last year, am I right?
There's more to it than just fun, though. Creating an Instagram wall for events has quite a few benefits for everyone involved, whether it's a small intimate event or a large corporate event, and it's affordable for both types.
The attendees will take more photos, so the hosts get an even more significant collection of memories for an event like a wedding or soiree.
If the event is for business, the company will be pleased to see how many more photos are out in the socialverse promoting their event, which is excellent event marketing and could increase ticket sales for the following year.
The photo-takers are happy to see their works of art (or social proof they put on pants that day), displayed for everyone to see.
Finally, the event planner can take credit for a highly publicized event that guests truly enjoyed — an Instagram wall is like the adult bouncy house of parties and conferences.
Engage your attendees with a real-time, fully customizable social media wall. Start your social media wall today.
How to use an Instagram wall to kickstart your event
Instagram continues to increase in popularity. It's photo-centric, so people can bypass the drama on Facebook and go right to Instagram to post photos. And Instagram welcomes this activity, encouraging people to use hashtags. You can now even follow hashtags, so if you're a conference organizer, you could promote a hashtag today, and post to it again when the next event is accepting registrations.
At Everwall, we can get you set up with an Instagram wall for events lickity split, but if you aren't sure how you want to use it yet and are still planning your social media timeline, here are a few ideas:
At a conference, use Everwall's custom builder to display only tweets from the @'s of speakers at a conference. Before the event, let speakers know and encourage them to quote one another in Tweets, throughout the event.
At a tradeshow, leave the business card fishbowl at home and organize a booth that includes photo ops as part of a contest. Ask attendees to use a hashtag to win a prize, then display the social posts and leaderboard throughout the event.
Orchestrate a hashtag marketing plan for a conference, displaying the social posts of event-goers on a massive wall for everyone to see and encourage using the hashtag.
At weddings, use a social wall to display all the photos people are hashtagging during the event to increase participation and collect bonus memories for the bride and groom.
At fundraisers, have a dedicated social photographer go around to take and post photos of each of the tables, and display them on a large, prominent projection screen. Throughout the event, @ your more prominent and most supportive donors, and encourage guests to use a designated hashtag.
When you're in the business of engaging people, creating an Instagram wall for events makes total sense — give attendees a hashtag and let them go to town populating your digital wall with photos.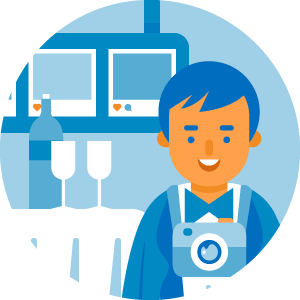 As you can imagine, this can go awry, when people know they have center stage, so here are three tips to help you start building your Instagram wall:
Get the party started. There's no fun in a blank wall, so either upload photos using the hashtag before the event begins, or designate an official photographer to start filling the feed at the event right away.
Don't hide the hashtag. For the photos to show up on your Instagram wall, people need to use the hashtag, so make it large and prominent on and around the screen.
Curation is key. If you use a service like Everwall for your Instagram wall, you can use their curation features, or enlist their team to curate the feed during your event manually.
When creating an Instagram wall for events, the wall is your oyster. It's an effortless way to turn event goers into your best photographers, marketers, and ambassadors.
Start increasing engagement at all of your events with Everwall, with little tech-savvy required. If you have a web browser, a computer, and access to the internet, you can display your Everwall. iPad only? We support that, too. Start your social media wall today.
There's more from where that came from...
« Previous Post
You've got a website—and an awesome one at that—but you want to make it a bit fresher without having to log in every day an update it.  You think, "hey, I Tweet a lot, why don't I just…
Next Post »
Wow, never when I started Everwall—10 years ago today, to the day—did I think we'd be where we are. We've been a part of some of the most known and recognizable events around the world, and,…