Keep it on the down low, use Everwall at your Private Events.
SMS, Web Forms and More... Everwall supports multiple sources for getting guests at your private corporate event engaged.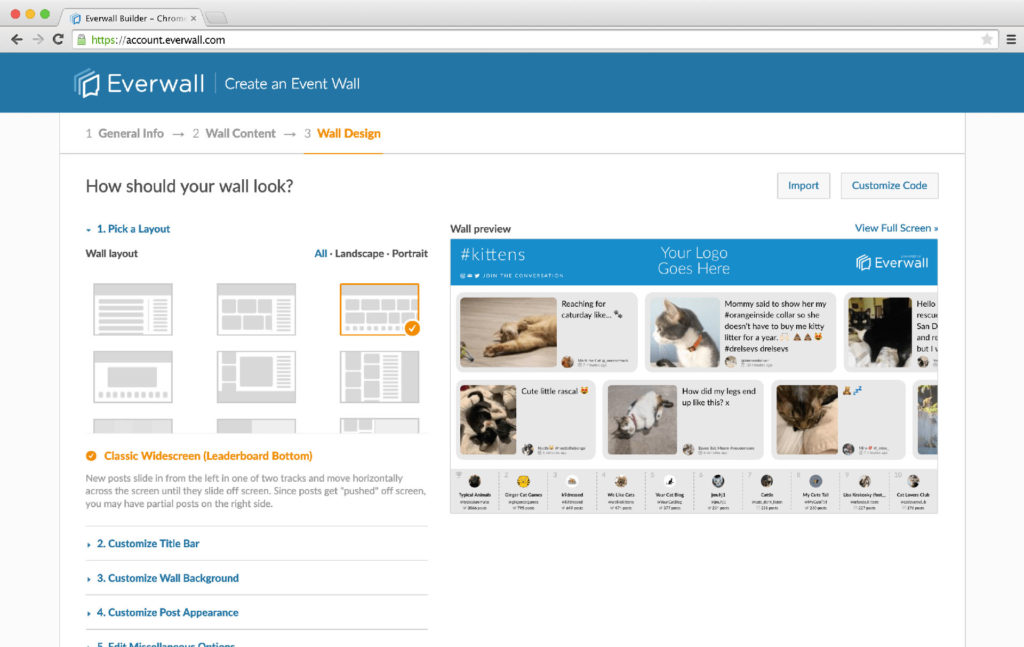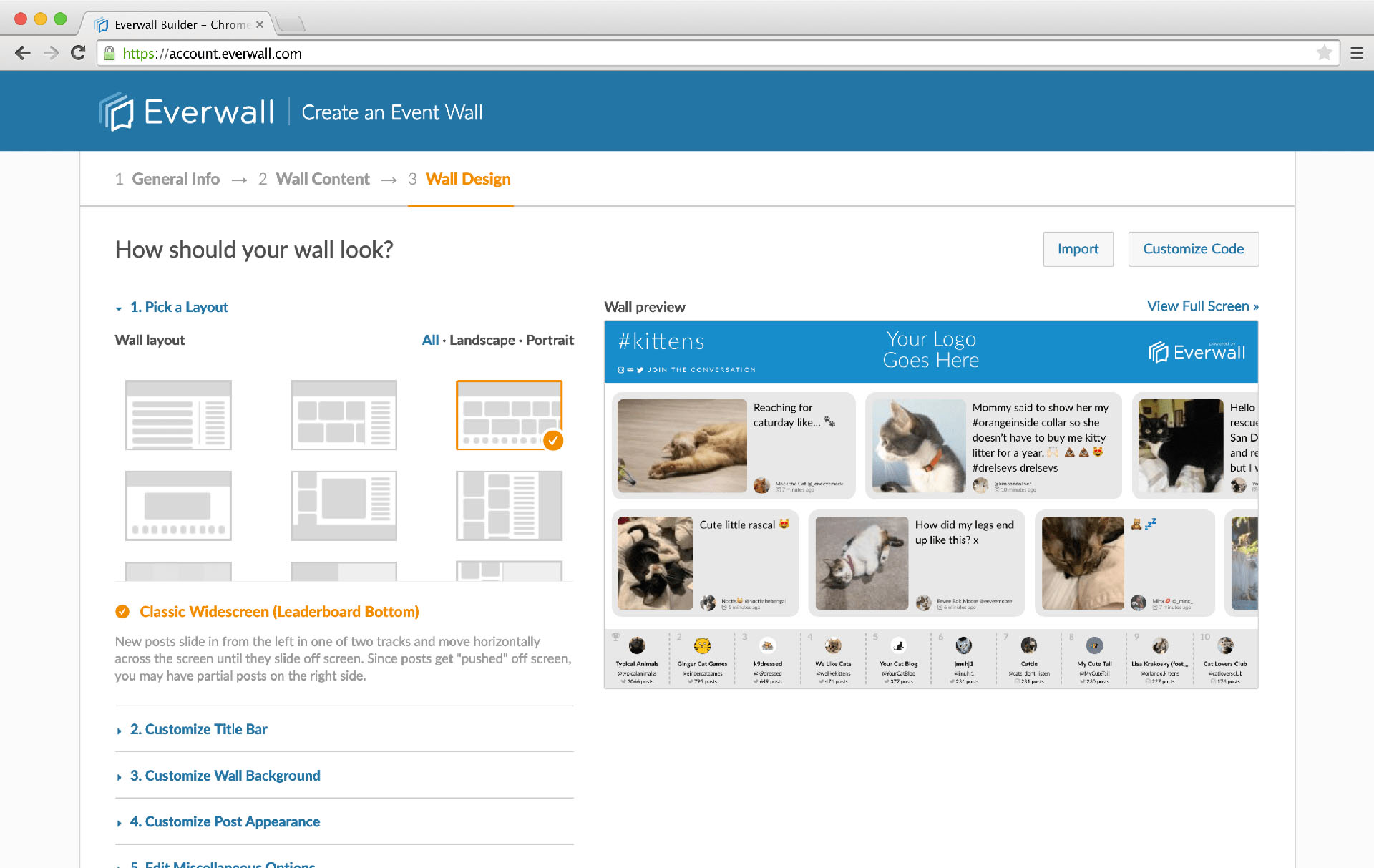 Just because you want your event private, doesn't mean it needs to look boring.
Every part of your social wall is customizable. Pick from 13 beautiful layouts to start, then change the colors, fonts, and add multiple logos to make it perfectly match your private event.
Need something more custom, we can do that too.
And, just because you want the event to be private, doesn't mean it can't be fun, either!
Everwall supports announcements, polls, leaderboards, and more. Use our best-in-class features to make your event stand out for your guests.
Control the conversation with easy to use moderation
There's always a risk that something inappropriate might get through, so we also provide the ability for you to see and approve posts and images before they're shown on your wall. And in case you don't have someone on your team who can moderate your wall, we have moderators available 24/7 who can do it for you.
You can have multiple moderators, and can even moderate on the go from any mobile device.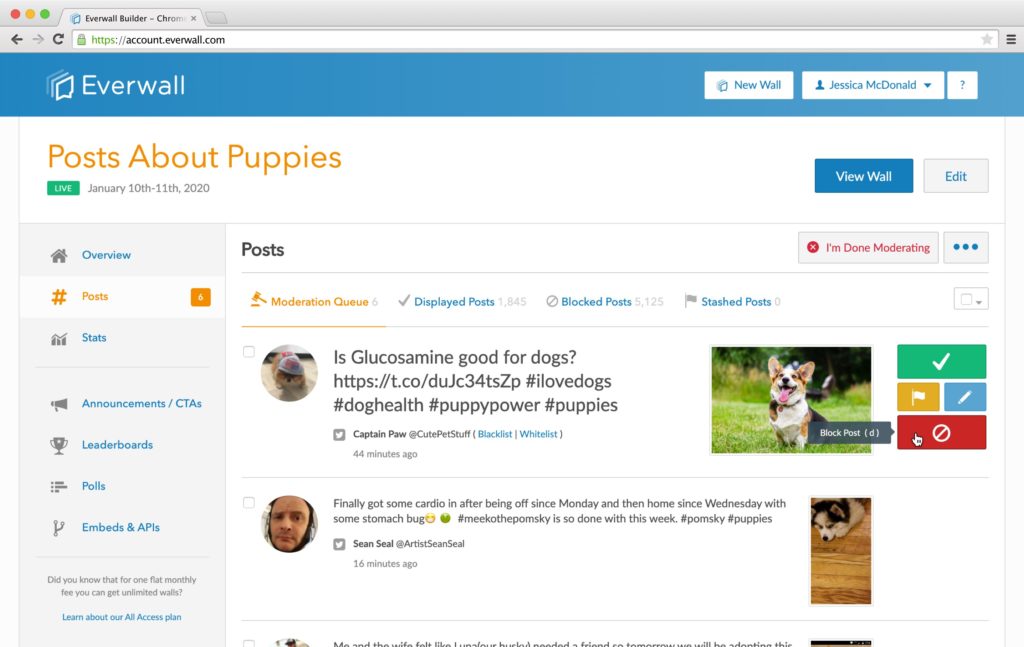 We're flexible — allow your guests to privately interact in the way that best suits your private corporate event.
Just like our social walls that use Twitter or Instagram, all of the below content sources are real-time, too.
Text and Picture Messaging (SMS & MMS)
Use the most common private communication channel today—SMS. With SMS enabled on your wall you can have your guests text in to engage with your social wall. They can include pictures, text, emoji's, and animated GIFs.
Currently we support SMS in 17 countries (United States, United Kingdom, Australia, Austria, Belgium, Canada, Estonia, Finland, France, Germany, Ireland, Malaysia, Netherlands, Poland, Puerto Rico, Sweden, Switzerland). Picture messaging (MMS) is only available in the United States and Canada at this time.
Direct (Web Forms)
Our Web Forms are mobile friendly, designed to fully match the wall you design, and allows your guests upload images, videos, animated GIFs, and post text in any language.
Since they're mobile friendly, they're great to embed into your mobile app, too.
Email
For most private events we recommend SMS and/or the Web Form, however, we also support email. You get a private email address that can optionally be protected with a subject-line password, and then anything sent to that address can be shown as a post, including not just the text, but also attached pictures.
Dropbox (and Box, and Google Drive)
Does your private event have a roaming photographer? If so, you can push the photos they upload to Dropbox, Box, and Google Drive straight to your social wall as they are uploaded to any of those services. For the ultimate real-time access, you can use the camera's wifi connection (if it has one) or an Eye-Fi or other WiFi SD card if it doesn't, to upload the photos in real-time as they're taken.
Everwall Connect
Are you developing something custom in-house and want that content to appear on your Social Wall? If so, Everwall Connect is the perfect way to privately integrate with us.