We've done more social walls for conferences than anyone else.
See why we're the most used, and best social wall for your conference.
In-person conferences, virtual conferences, and everything in between.
Whether your conference is in-person, 100% remote, or it's a hybrid conference, Everwall has you covered.
We have 13 different layouts to choose from if doing self-service, can custom-build your social wall if you want something nobody else has, and all of our social walls support embedding onto your website.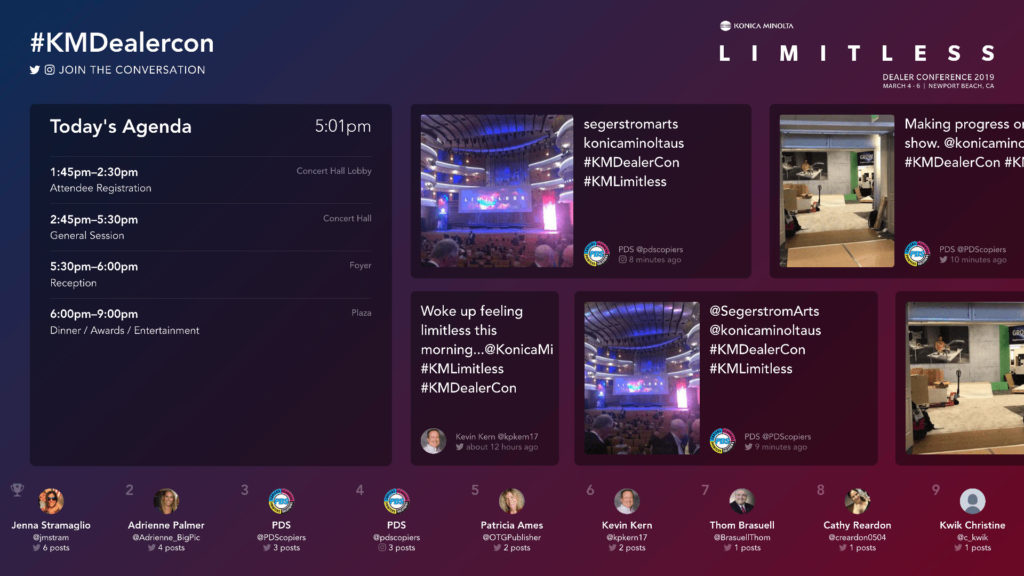 Tens of thousands of companies trust Everwall for their conference Social Walls.
Here's just a few.

Use a modern browser or one of our apps to broadcast your social wall.
Create, manage and display your wall using any modern browser, like Google Chrome, Firefox, Safari, or Edge; or use one of our native apps to display your wall to the world.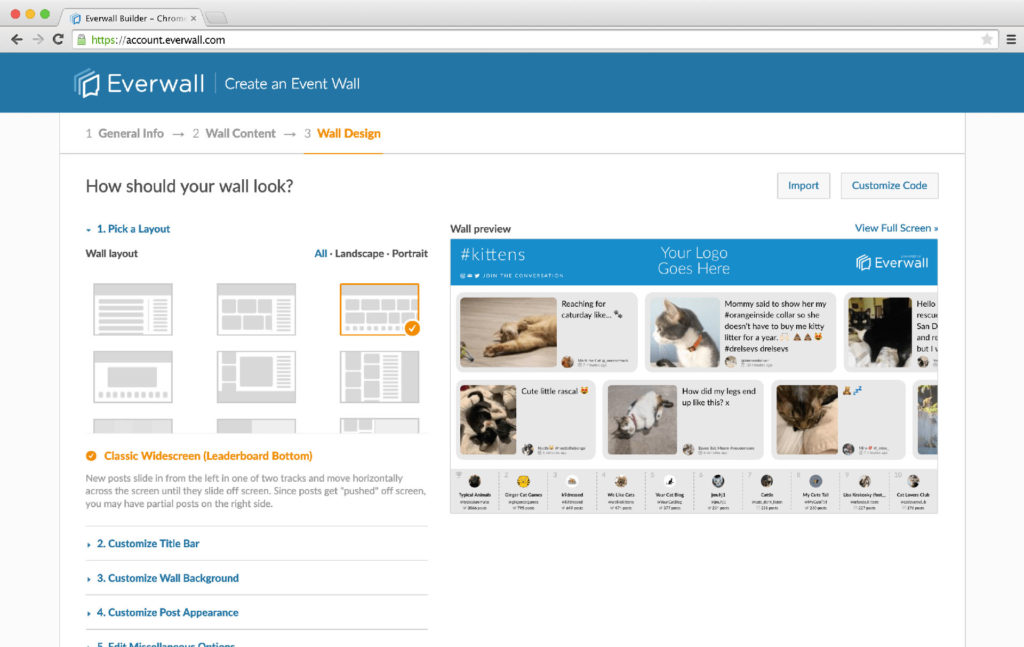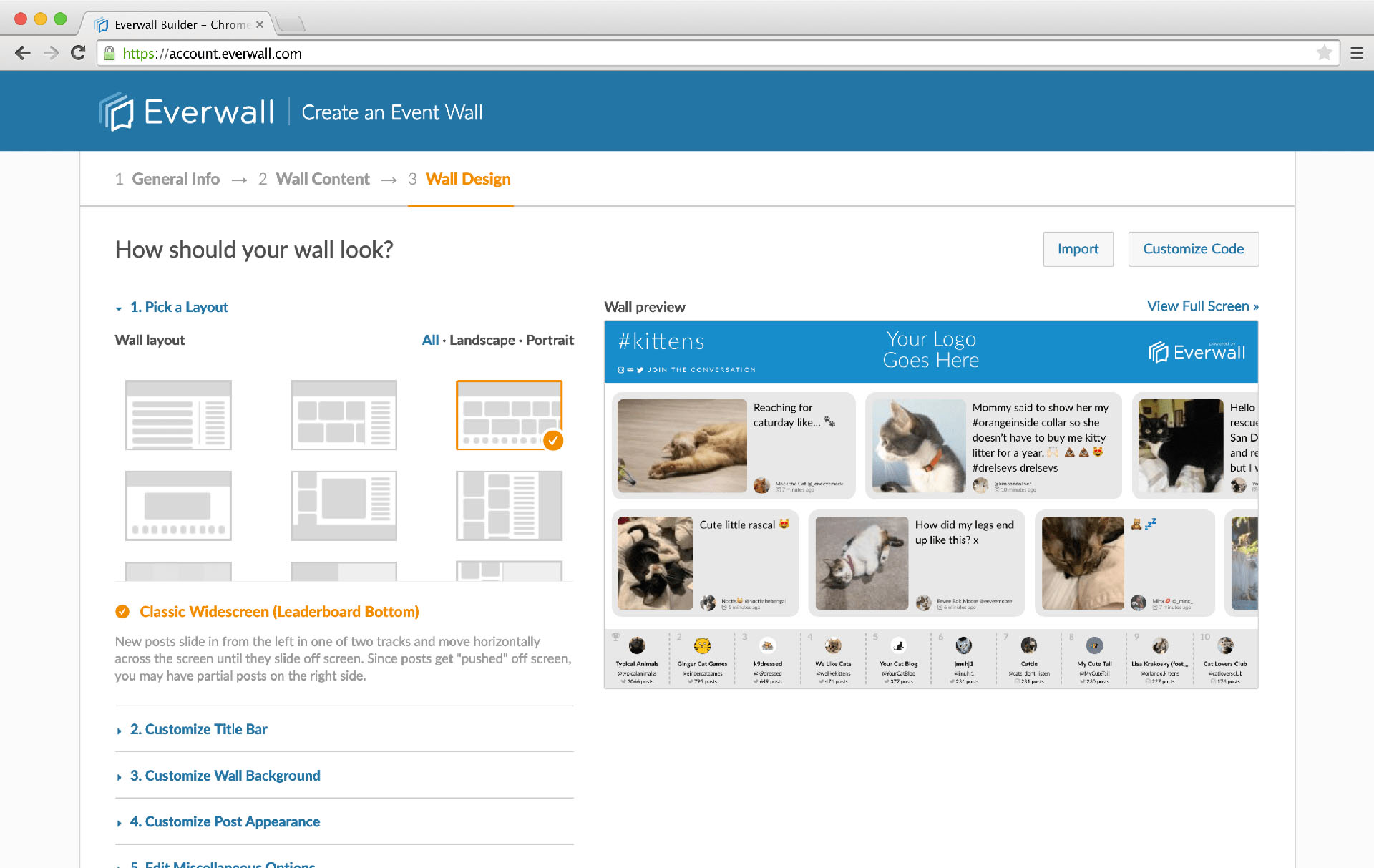 Completely Customizable
Every part of your conference's social wall is customizable. Pick from 13 beautiful layouts to start, then change the colors, fonts, and add multiple logos to make it a true and natural extension of your event experience.
And if that's not enough, we even let you add your own HTML, CSS and Javascript if you want to really customize it. Or, you can have us build you a custom template, too.
Easy to Manage Content
There's always a risk that automated filters might let something slip through, so we also provide the ability for you to see and approve posts and images before they're shown on your wall.
And in case you don't have someone on your team who can moderate your wall, we have moderators available 24/7 who can do it for you.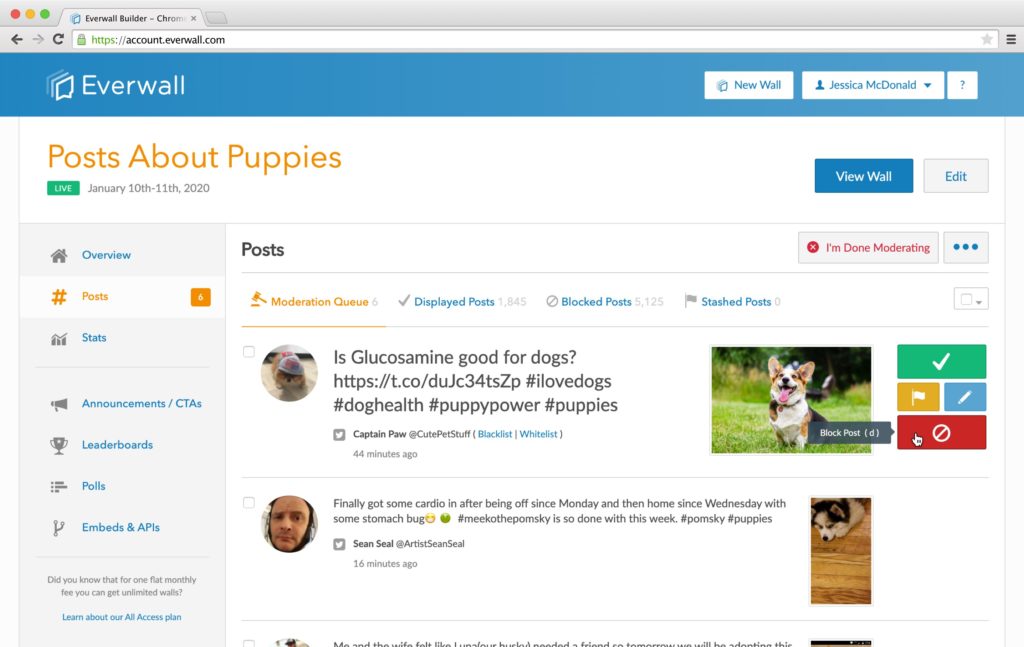 Keep Attendees Informed
Post announcements to your social wall—either manually or on a schedule you define—and keep your attendees up to date.
Take a Vote
Create polls, and let your attendees vote via any enabled source and see the result real-time on your conference's social wall.
Real-time leaderboards get your attendees in the game.
Rank those who've engaged with your conference using one of our three leaderboard types, and showcase the thought leaders on your social wall. Get their name on the screen, and see engagement flourish.
Most Importantly: Everwall is Reliable.
Never worry about your social wall—it's a set-it and forget-it item. Lose your Internet connection? No problem, it will automatically fix itself when it comes back up. High volume? We're great at that, too.
We use both Google Cloud Platform (GCP) and Amazon Web Services (AWS) to provide us with a fully-scalable and globally redundant setup in 7 datacenters around the world. And, to top that off, we use Cloudflare and their Argo Routing to ensure the fastest routing and guaranteed delivery of data to your ISP.
Reliability is something we take very seriously.