What do you want to display on your social wall?
Pick any number of hashtags, keywords, phrases or @users to watch for, on any of the services that really matter today. We'll watch all sources vigilantly and instantly show matches on your social wall.
Posts from multiple content sources can be shown on a single social wall at the same time.
Get Started or, learn more.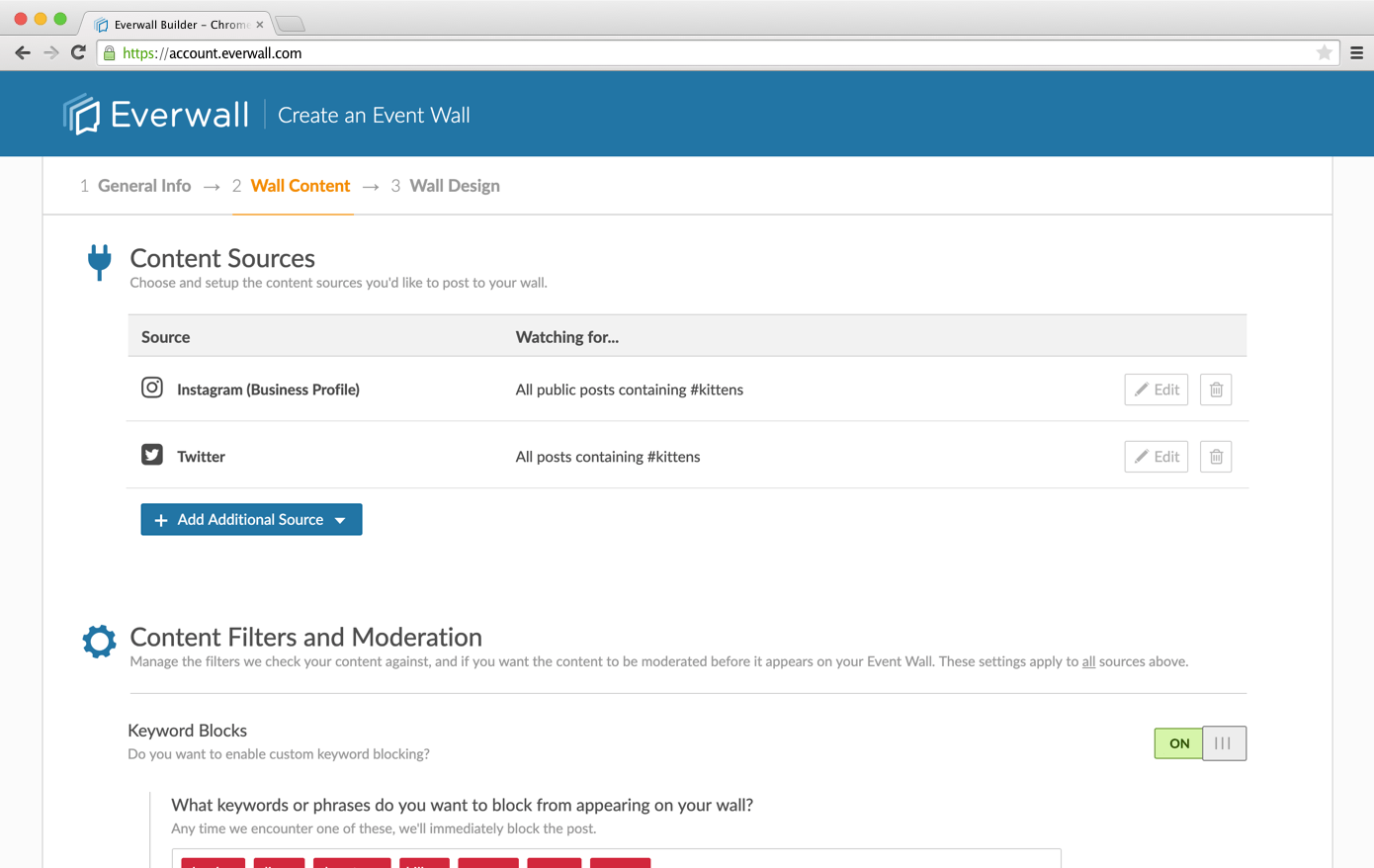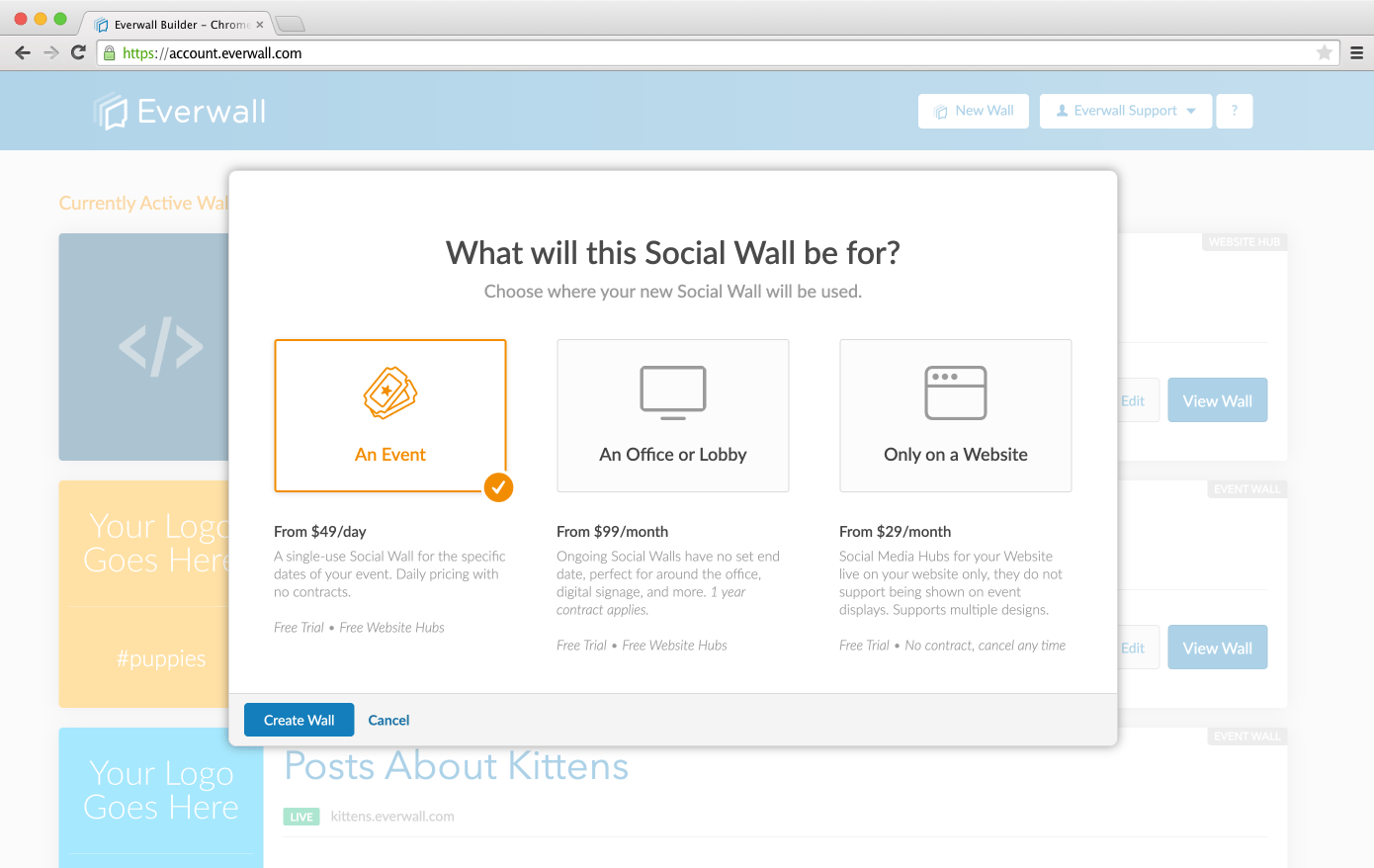 Where do you want to display your social wall?
We support displaying your social wall at events, in offices, and on your website.
And, if you're doing a hybrid event, we fully support you showing your social wall at the in-person event, and then using the same content and showing it on your website or in an event app.
Get Started or, learn more.
Truly Reliable
Never worry about your social wall—it's a set-it and forget-it item. Lose your Internet connection? No problem, it will automatically fix itself when it comes back up. High volume? We're great at that, too.
Filters & Moderation
Easily filter out profanity, keywords or phrases, @users, probable spam and more. Display posts automatically or after you've reviewed them.
Your social wall is under your control.
Leaderboards
Show the top participants ranked by post engagement, times they mention your hashtags, or by how many followers they have. Your guests have never been so engaged at an event.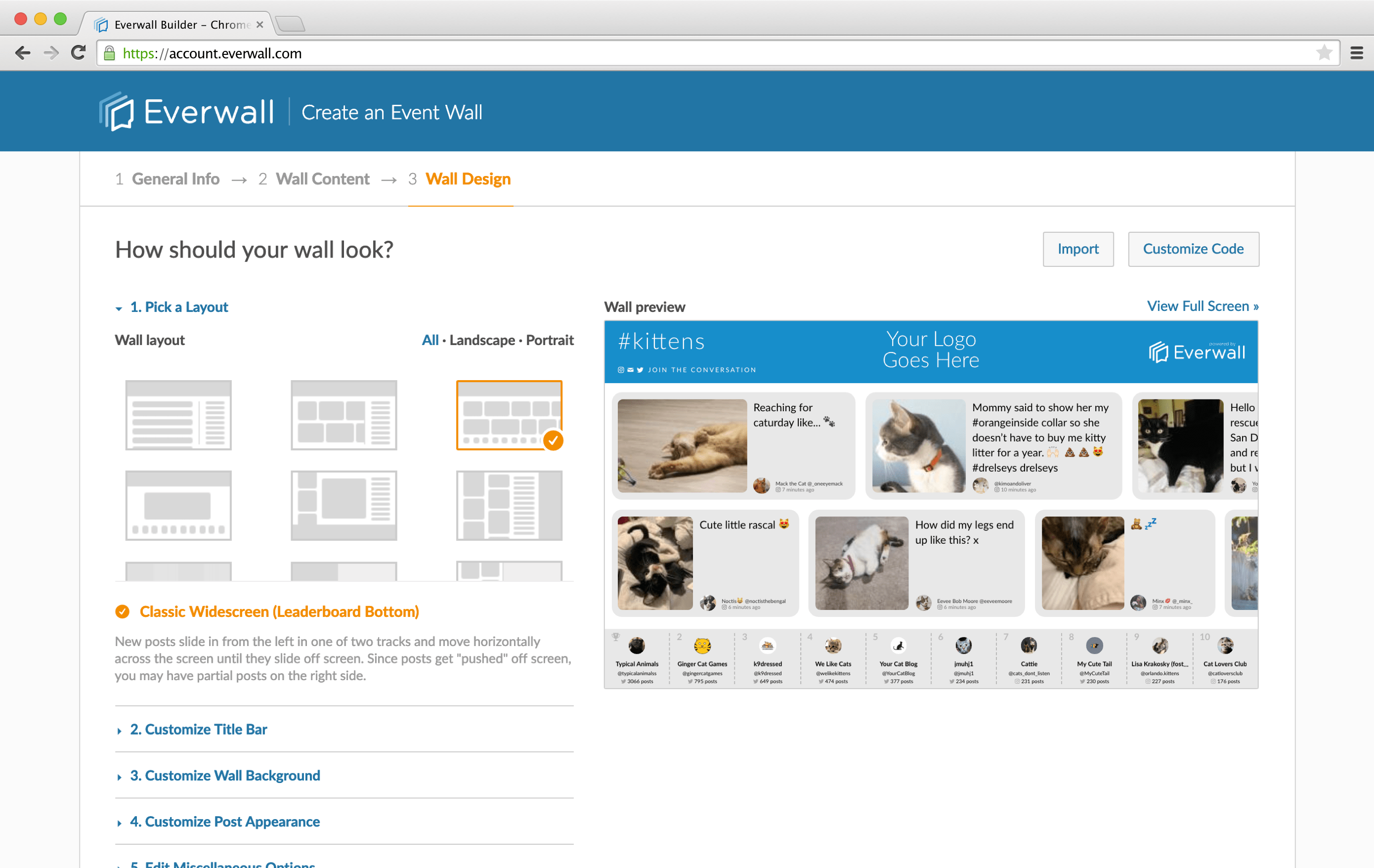 Completely Customizable
Every part of your social wall is customizable. Pick from 13 beautiful layouts to start, then change the colors, fonts, and add multiple logos to make it a true and natural extension of your event experience.
And if that's not enough, we even let you add your own HTML, CSS and Javascript if you want to really customize it. Or, you can have us build you a custom template, too.
Get Started or, learn more.
Everwall is 100% Real-time.
Our social walls update in sub-second realtime. Don't make your guests wait, keep up with the pulse and flow of your event, and allow the instantaneity of it all to drive event engagement.
From the initial ingestion from any of our content sources, all the way through to being displayed on your social wall, our entire platform operates in real-time. No refreshes required.
And, yes, that means you'll get more social engagement by using Everwall.
Get Started or, learn more.
Trusted by the best of the best. Over 30,000 of them now.
Thousands of the world's greatest companies use Everwall for their social walls—including 48% of the Fortune 50.
They've trusted us with their events. Shouldn't you?
Learn more about what we offer.
No matter what your social wall needs are, we've got you covered.