Partner with Everwall!
We can't do what we do without great partners. Let's partner up!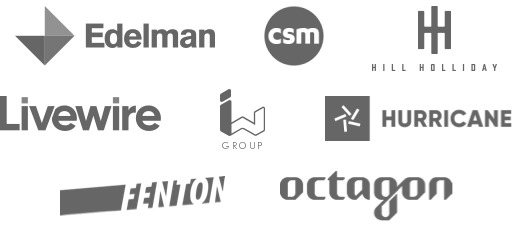 Agencies
We are privileged to work with hundreds of the best experiential agencies around the world to pull off social engagement at some of the largest and most well known events anywhere.
Specialists at experiential agencies like these are the only reason we're able to pull off some of the projects we do. If you need to pull off something amazing, any of these agencies not only are familiar with Everwall and getting the most out of our platform, they're also great value added providers and know how to execute anything you can dream of.
Learn More About All Access for Agencies
Are you an agency that does more than 10 Full-Service events per year? We have volume discounts. Get in touch.
Everwall Connect Integrations
Over the years, Everwall has worked with hundreds of events that needed just a bit more of a "touch" to pull off. This process can be lengthy and technical, but the end result is a smooth integration that lets you get your own content directly into Everwall social walls.
Strategic Partners
Are you looking to partner on a more strategic level? Whether it's integrating our service into yours, or your service into ours, we love our strategic partners.
We've already partnered with two of the leading event ticketing sites to help you engage attendees at all of your events. Just register with Everwall, then link the service to your account and when you create a social wall we'll pull in all of your event's details.
Event Partnerships
We do not typically sponsor or partner with events so that they can get social walls for free—even in exchange for listing us as a sponsor.
We do, however, have a great discount program if your event is in one of the categories eligible.
Do you want to partner up?
If you're a large agency, a developer wanting to integrate with Everwall Direct, or want to partner on a more strategic level, let's talk.