Your social wall is not just for showing at your event, broadcast it on your site, too.
Display Twitter, Instagram, and more on your website in a fully customizable, realtime, beautiful embed.
Copy and paste simplicity
Embedding a social media feed on your website is just like embedding any other social social media widget you might put on your site—you just copy the embed code snippet we provide, and paste it onto any website where you can access the HTML code.
In minutes you can have a Social Media Hub that aggregates and displays the social media you want to show on your website.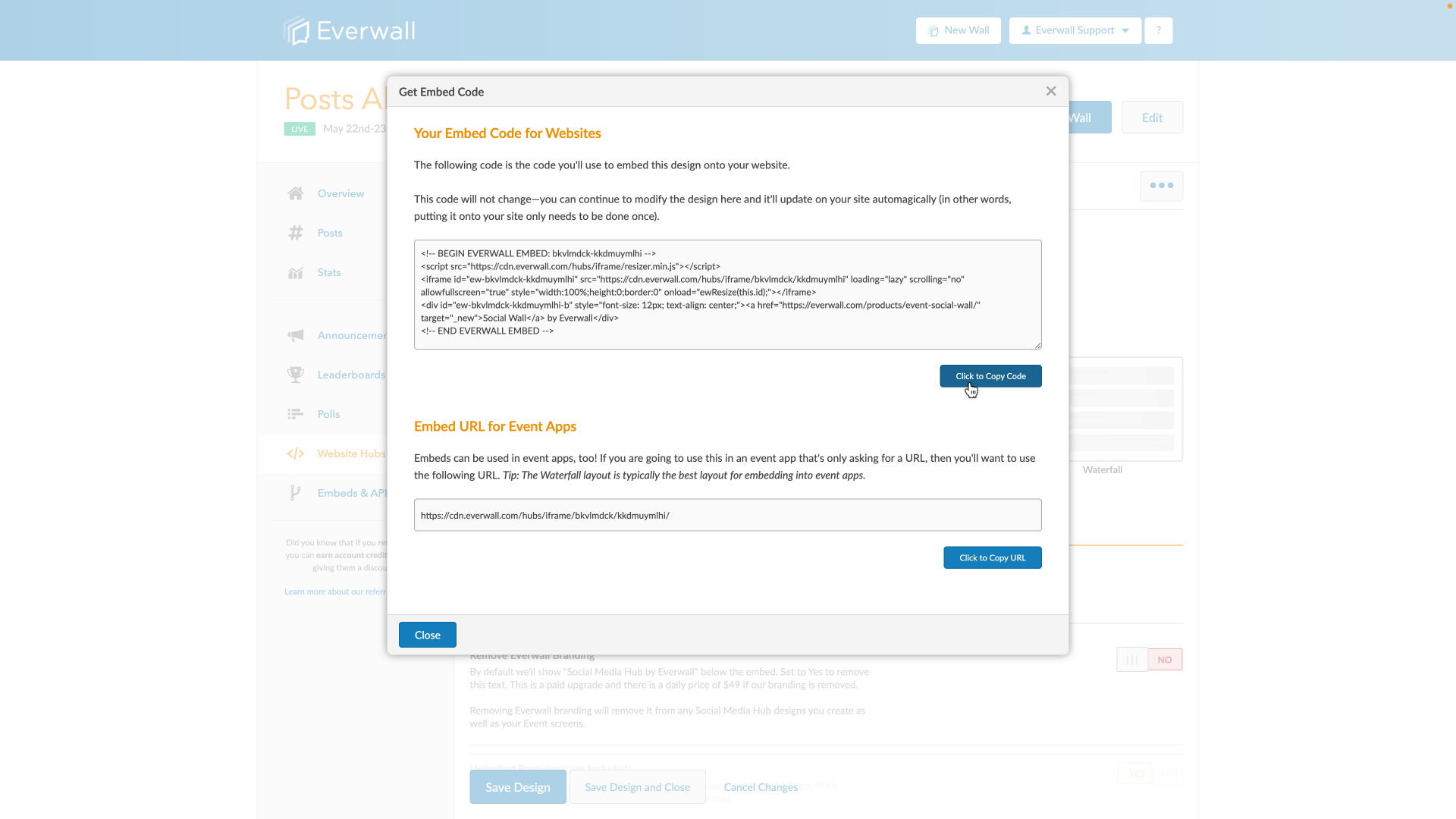 Create multiple designs, for different places on your site
Want to show your posts in different ways on different parts of your site? You can!
You can create however many designs as you'd like, and they'll all display the same posts, but with different styling making content management super easy, since you only have to do it once.
Choose from 4 different Social Media Hub layouts
With 4 layouts to choose from—5 if you're technical and enable Advanced Mode—there's a layout sure to be a good fit for you.
And, to top it off, almost everything on the Social Media Hub can be customized. Make it real-time, or not. Change the number of posts, their size, colors, fonts, if they have borders, rounded corners, and more. Disable links, hide avatars, even hide the post images.
Because you can create multiple designs, you can make your Social Media Hub look great wherever you put it on your website.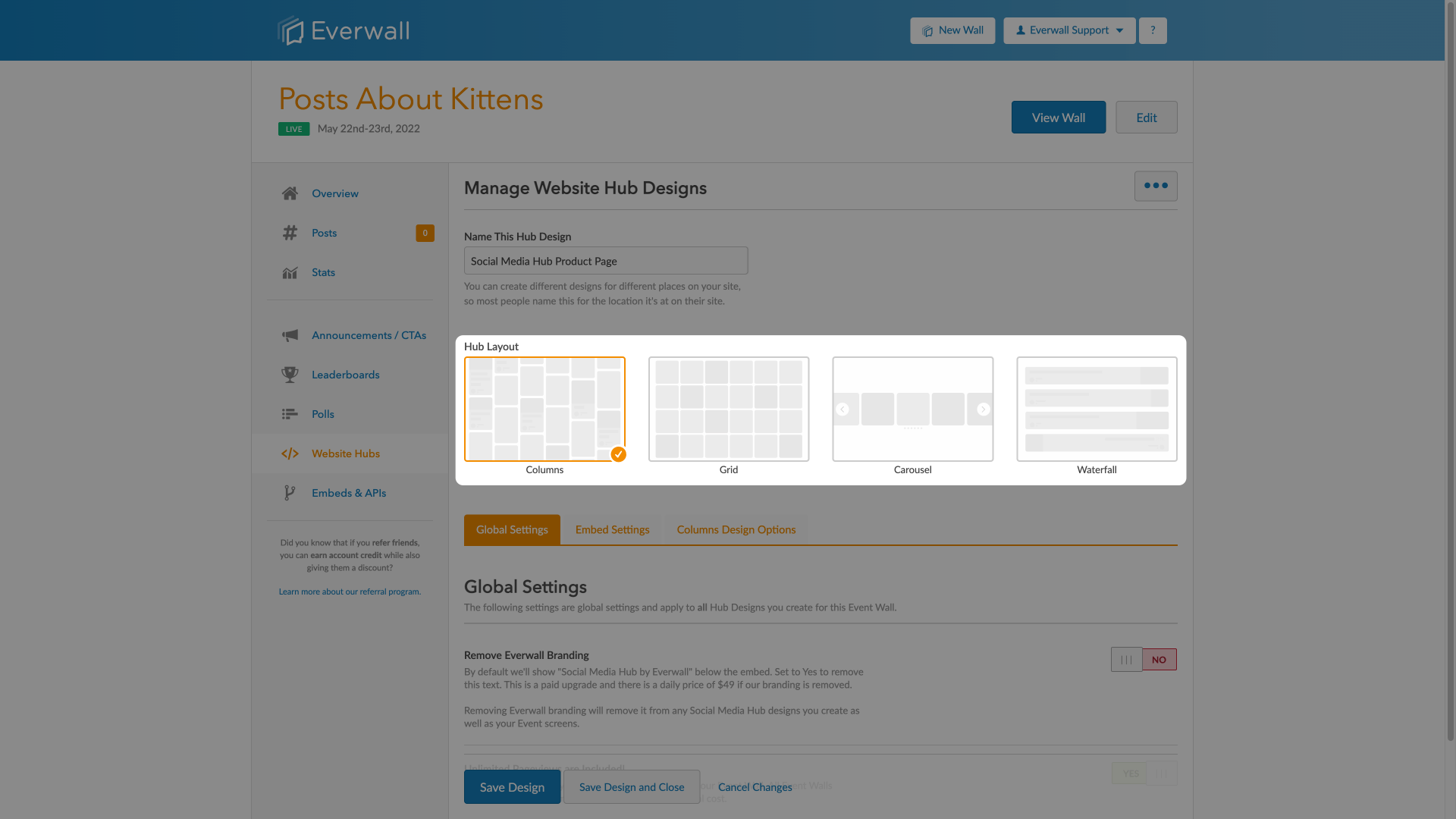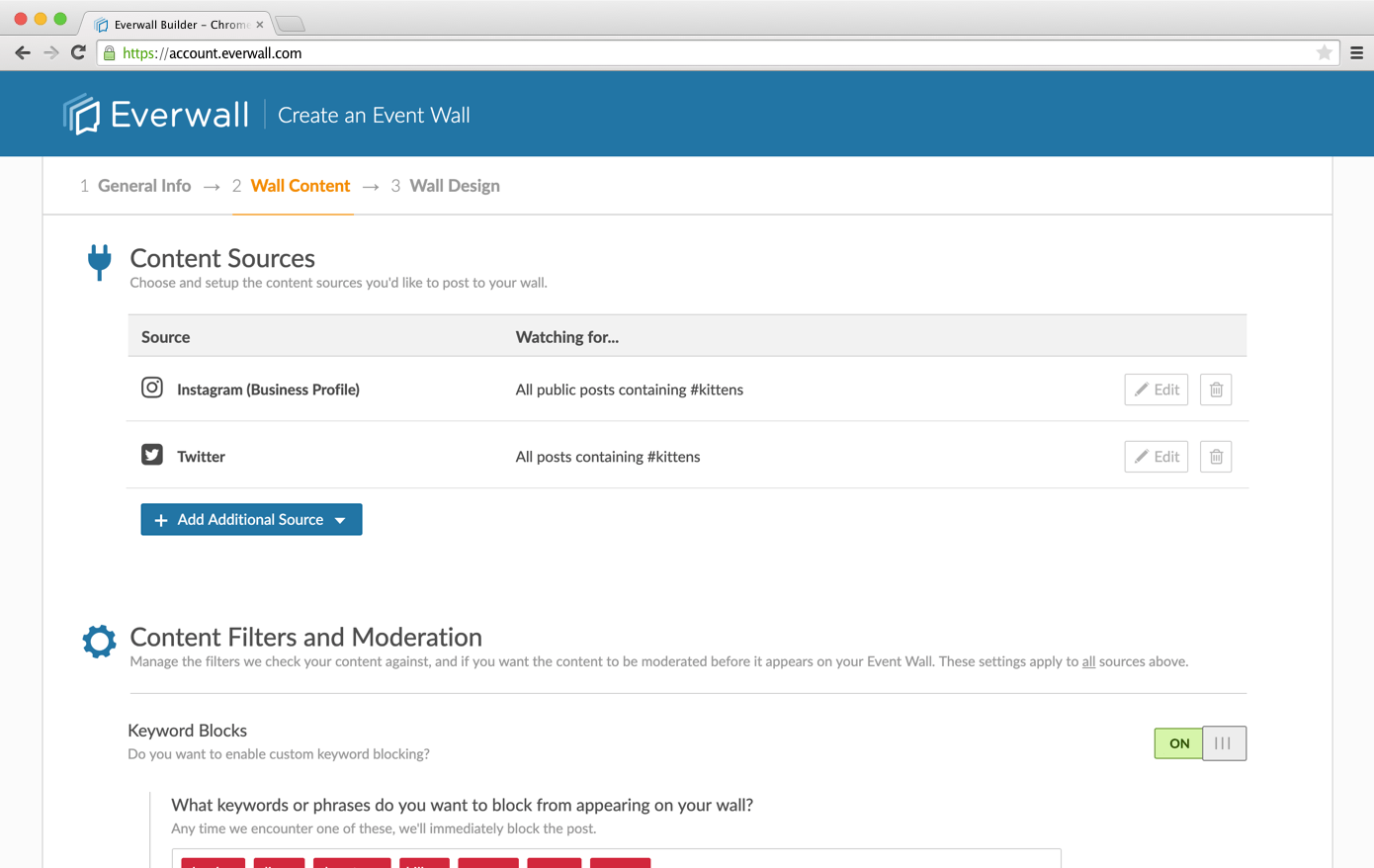 The best social media aggregator
Whether you just want to display your twitter feeds on a WordPress site, or you want to aggregate multiple social media feeds into a single embed and have it shown on your fully custom website, we've got you covered.
With Everwall's Social Media Hubs you can easily aggregate social media content from multiple social networks, and then embed a social media feed on your website.
Best of all, we don't artificially limit what you can aggregate. Pull in posts using as many hashtags, keywords, or @users as you need.
Did we mention your embed code never changes?
That's right, make any design changes you wish at any time, and you don't have to edit the code—it just magically updates to the new design on your site.
Integration ready
Are you building something unique that requires a flexible yet powerful API to interface with on your next project? Social Media Hubs allow you to embed the Social Media Hub on your site using the snippet we provide, and we also provide JSON, XML and RSS feeds.
Using these feeds, you can easily use our platform to aggregate social media and then pull the content into your RSS Feed reader of choice, a WordPress plugin, or pipe it into any one of the thousands of no-code tools.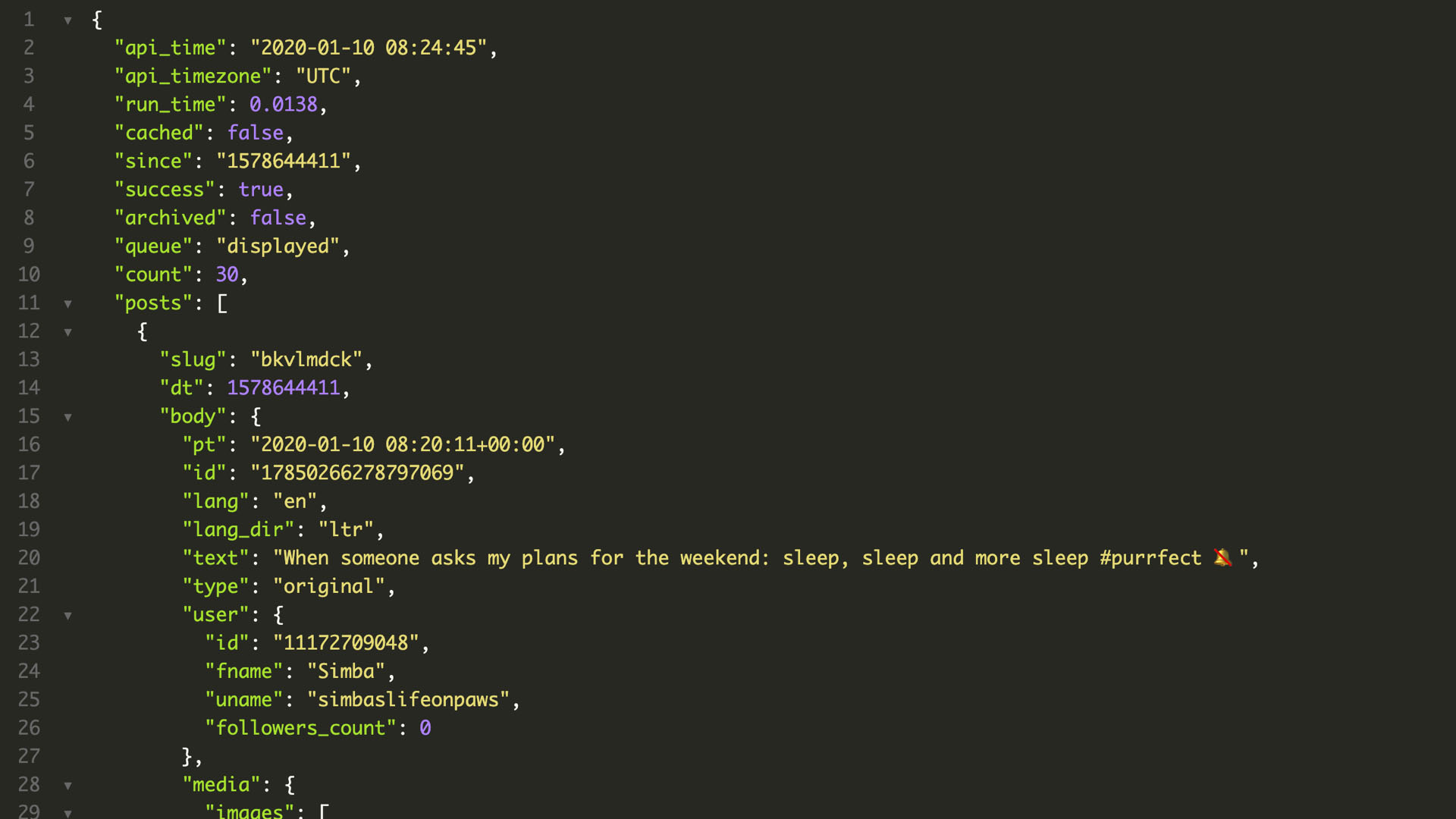 You're always in control.
No matter what User Generated Content (UGC) you want to pull in, you should always be in control of what's shown. And with Everwall, you always are.
You can easily control what content is shown on your Social Media Hub, and what is not. Pre-approve content before it's shown with Full Moderation, or allow the included filters—like our profanity filter, trending topic filter, or keyword filters—check and approve the content.
And of course, you can always block specific users from ever appearing, or make it so specific users are always allowed. We even have manual content imports.
Get a Social Media Hub à la carte, or with any event or ongoing social wall.
All of our Event Social Walls and Social Media Digital Signage come with a Social Media Hub for your website free of charge, so whether you have a single day event, or you want it on your website year-round, you can easily grab the embed code, and put it on your site.
More than just an Instagram feed or Twitter feed embed.
You can do much more with Everwall than just embedding a single Twitter feed or embedding an Instagram feed—you can combine multiple content sources / hashtag feeds from any of our supported sources into a single unified Social Media Hub. Mix and match as you please.
A live example.
This is a very basic example Social Media Hub with almost no styling changes. However, you can customize nearly everything if you want to—from colors, to fonts, showing or hiding pictures, links, avatars, timestamps, and more. We made it extremely customizable, so that it can always match your website and branding.
And yes, this is really streaming live right now. Feel free to try it out using #kittens.
Monitoring Flexibility
Manually or automatically pull posts into your Social Media Hubs from Twitter containing any number of hashtags, keywords, and more. Or, if Instagram is your thing, hashtags from there. All of your posts from any of the configured sources show together in the one Hub for your website.
Filters & Moderation
Use filters to block specific keywords, or users from your Social Media Hub. We also have a great profanity filter to help out.
If you need something more robust, we offer the ability for you to use full moderation so you can approve every post before it's shown.
Completely Realtime
Our entire platform runs in real-time, so the moment something gets posted, it'll appear on your website immediately, Or, if you've opted to moderate your wall, it'll appear in your moderation console instantly for you to approve it first, and then get displayed as soon as you approve it.
Plans & Pricing
We like things simple, we have just one plan and a few add-ons for those that need them.
All Social Media Hubs include:
Unlimited content sources (Twitter, Instagram, etc), and for each of those content sources, you can set it up to monitor unlimited things, like hashtags, keywords, and @users.
Unlimited Posts
Unlimited designs, allowing you to show it in multiple places and have it customized for each location
Real-time post updates (in fact-our entire platform is real-time)
200,000 Pageviews per month
API access, so you can build anything you can dream up
Optional upgrades include full moderation, removing Everwall branding, and unlimited pageviews. More pricing details are here.
If you're using the Social Media Hub with an Event Social Wall or with our Social Media Digital Signage, then the Social Media Hub is free. If you only want the Social Media Hub, then it's available from $24 per month when paid annually, or $29 per month when paid monthly. There's no contract and you can cancel anytime.
Discounts are available for charity, educational, and government organizations. You can also get more than 20% off by paying annually.
Social Media Hubs
Increase website stickiness and engagement, yet stay fully on brand. Watch hashtags, keywords, owned accounts, and more.
Or, just:
$
24
per month, paid annually
Start your Social Media Hub
How does it work?
Well, it's easy as pie.
Decide if you want to display a Social Wall on screens, or just embed a Social Media Hub.
If you want to display a Social Wall on screens for all to see, in addition to on your website, you'll want to build an Event Social Wall or Social Media Digital Signage. When you're done building that, you can easily create the Social Media Hub for free using the same social media content.
If you only want the Social Media Hub, then go straight to building the Social Media Hub for your Website (Some call it a Hashtag Feed Embed) from the New Wall window.
Build and customize your hashtag feed embed
After you have built your wall (if you build an Event Social Wall or Social Media Digital Signage), you'll see a link in the left menu called Embed, and that'll take you to our Social Media Hub builder so you can embed your social media hub onto your website. Or, if you're building just the embed, you'll be taken right into the builder.
There are two types of embeds that we offer, the first is a stylized embed—which is the easiest to get started with—and the second option is what we call a raw embed.
When going with a stylized embed, you can pick several design options, but if you really want to stylize it an know CSS, feel free to go with the raw embed.
Embed it onto your website!
Once you've copied the code we provide and pasted it into your website's code... That's it, you're done—and, now you have an awesome Twitter or Instagram feed for your website!
Social Media Hub FAQs
1. What is a Social Media Hub?
A Social Media Hub allows you to aggregate social media posts from various social media platforms into a single spot on your website. By using a Social Media Hub, you can increase engagement on your site, increase brand share—since people on your website may follow your social accounts, and control messaging.
2. What are the benefits of a Social Media Hub over using a platforms embedding option?
There are several benefits of using a Social Media Hub instead of embedding directly from a platform.
The largest benefit is that it's multi-platform—you can embed Twitter, Instagram, LinkedIn, and more into a single Social Media Hub.
The second benefit is that you control and can moderate every single post. When using a hashtag embed from Twitter, for example, anyone who uses that hashtag would appear on your website.
Finally, a Social Media Hub can be customized to match your site. Embeds direct from the platforms are generic and not customizable, so it sticks out and doesn't match your site design.
3. What are some uses of Social Media Hubs
Social Media Hubs can be created for many purposes and reasons. Here's just a few:
You can show off your own content and make it easy for your website visitors to see and engage with you on social media (which also helps to create connections and brand loyalty).
You can use it to aggregate all the good things people are saying about you, and turn it into a Wall of Love, which can be a great sales tool when embedded on your website.
If you're doing a hybrid or virtual event, it can be a great way to increase engagement by showing all the posts related to the event next to the videos people are watching. And what's great about Everwall's offering is that your in-person and virtual guests can see the same thing, and you only have to moderate it once. The people attending in-person can see a display tailored for being in-person, and those virtually attending get a version optimized for how they're interacting with the event.