Your social wall is not just for showing at your event, broadcast it on your site, too.
Included free on event walls and ongoing walls, or just $19/mo stand-alone.
Coming Soon! Currently in Private Beta.
Copy and paste simplicity.
Embedding a Social Media Hub on your website is just like embedding any other social social media widget you might put on your site—you just copy and paste the code snippet we provide into any website where you can access the HTML code.
From simple WordPress installations to fully custom websites, we support them all.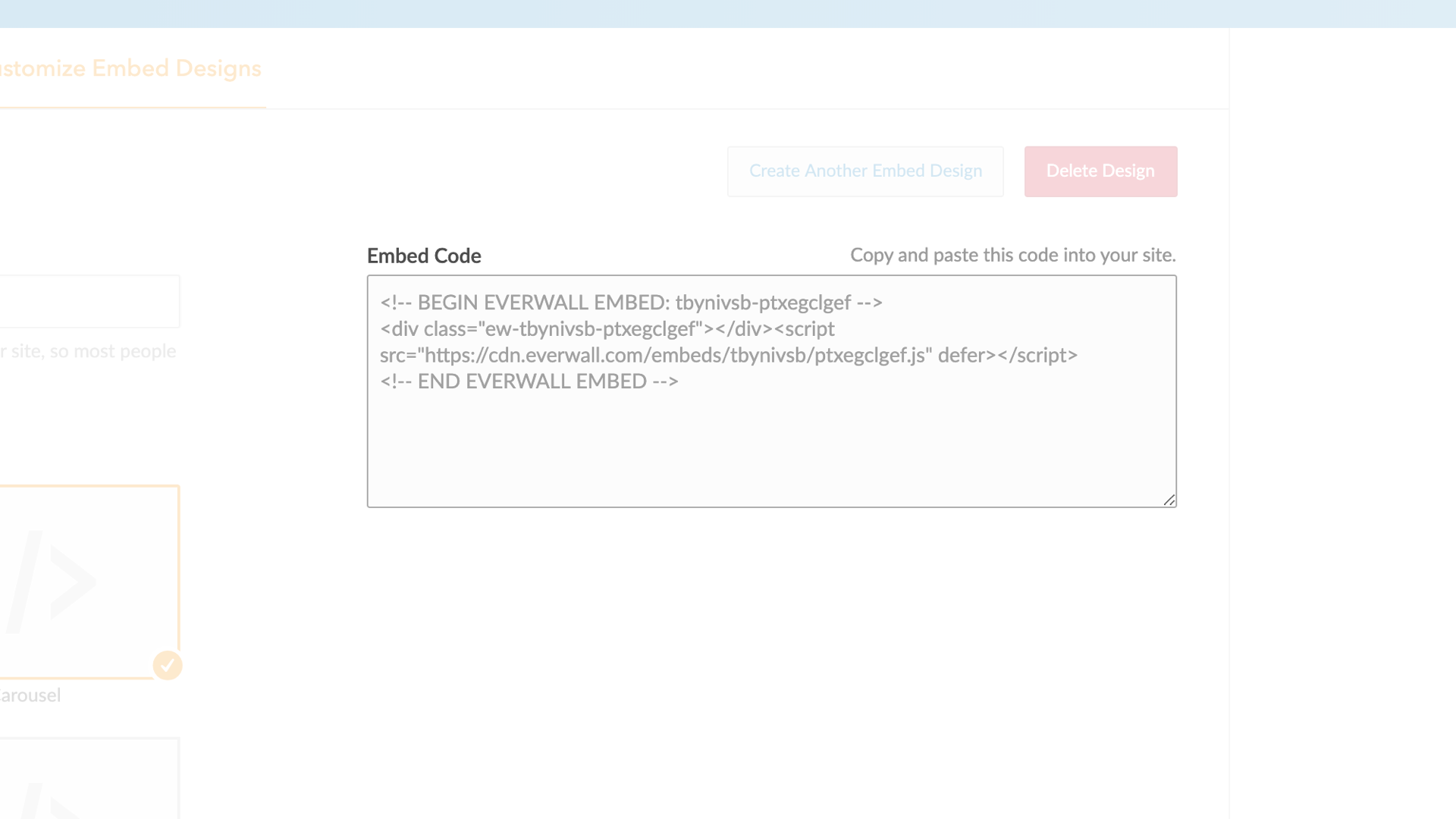 Create multiple designs, for different places on your site.
Want to show your posts in different ways on different parts of your site? You can!
You can create however many designs as you'd like, and they'll all display the same posts, but with different styling making content management super easy, since you only have to do it once.
Advanced integration ready.
Are you building something unique that requires a flexible, yet powerful, API to interface with on your next project? All Social Media Hubs include not only the snippet of code to embed the Social Media Hub on your site, we also provide JSON and XML feeds so you can easily use our platform to aggregate the content, and then do whatever you can think of with it.
Simple integration ready, too.
If JSON and XML aren't your thing, we also support RSS.  Using RSS you can pull the content into your RSS Feed reader of choice, pull it into a WordPress plugin, or pipe it into any one of thousands of tools.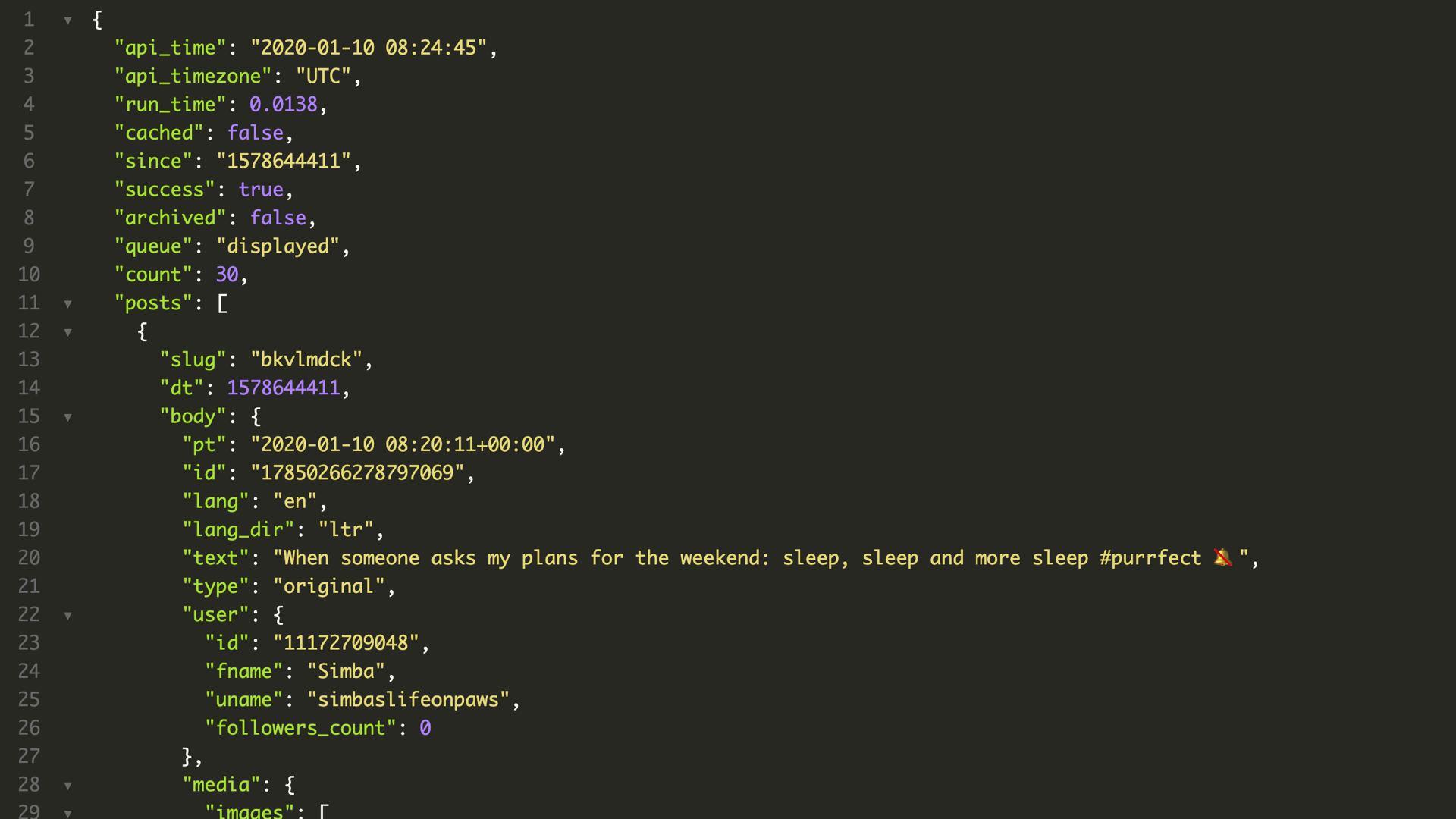 You're always in control
No matter what UGC (User Generated Content) you want to pull in, you should always be in control.
With Everwall, you always have a full control over what content is included on your Social Media Hub, and what is not.
Plus, to make your life even easier, we provide a bunch of really great filters—like our profanity filter, blacklists and whitelists, and more.
Social Media Hubs are available à la carte, or with any event or ongoing social wall.
All of our Event Social Walls and Ongoing Social Walls come with a Social Media Hub for your website free of charge, so whether you have a single day event, or you want it on your website year-round, you can easily grab the embed code, and put it on your site.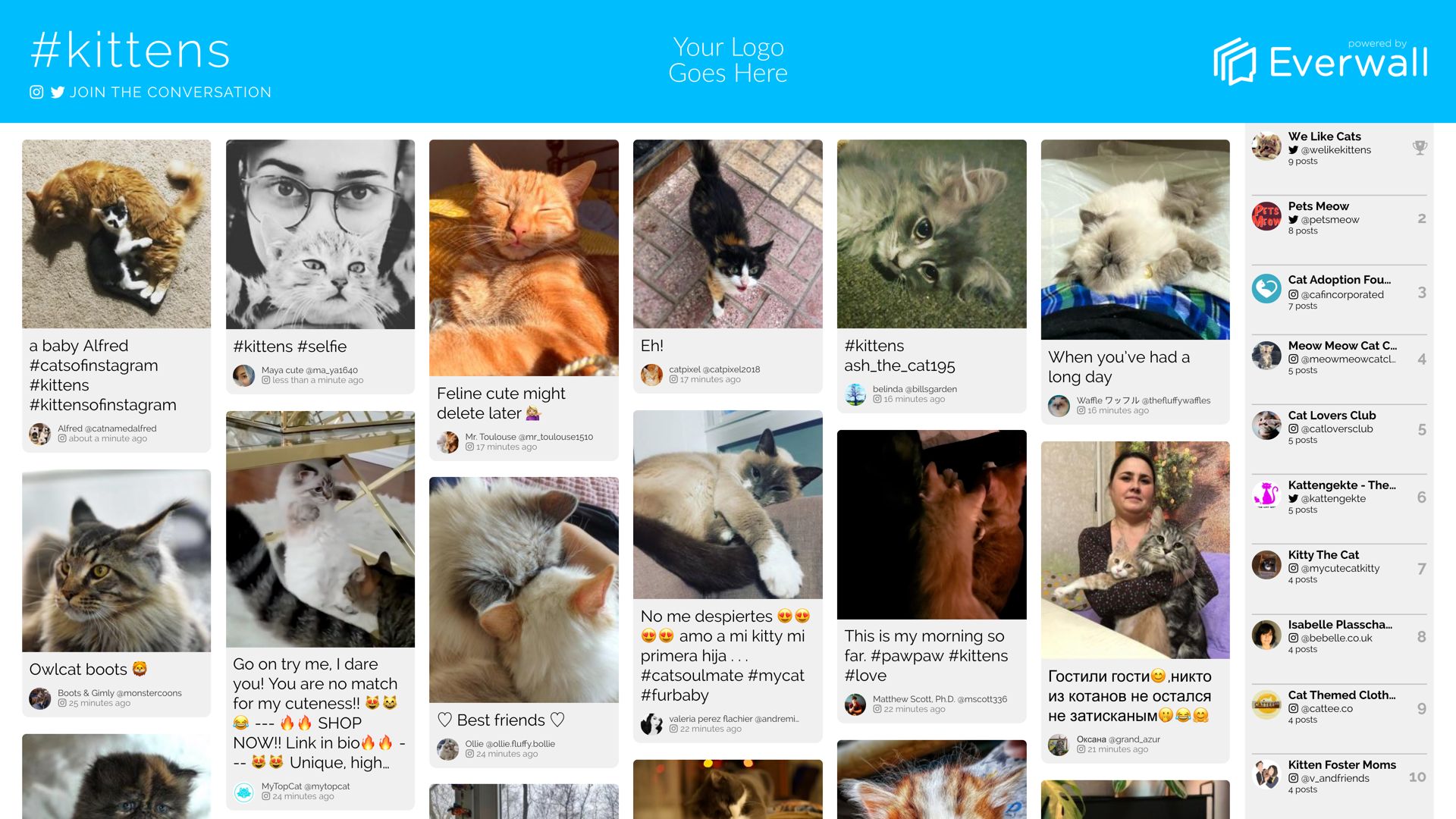 More than just an Instagram feed or Twitter feed embed.
You can do much more with Everwall than just embedding a single Twitter feed or embedding an Instagram feed—you can combine multiple content sources / hashtag feeds from any of our supported sources into a single unified Social Media Hub. Mix and match as you please.
A live example.
This is a very basic Social Media Hub that shows you the standard styling. You can customize it to show or hide pictures, links, avatars and more.
For those of you that really want to get under the covers, you can fully customize all of the css as well.
And yes, this is really streaming live right now, so go ahead and send a Tweet including #kittens and watch it show up here instantly.
Monitoring Flexibility
Manually or automatically pull posts into your Social Media Hubs from Twitter containing any number of hashtags, keywords, and more. Or, if Instagram is your thing, hashtags from there. All of your posts from any of the configured sources show together in the one Hub for your website.
Filters & Moderation
Use filters to block specific keywords, or users from your Social Media Hub. We also have a great profanity filter to help out.
If you need something more robust, we offer the ability for you to use full moderation so you can approve every post before it's shown.
Completely Realtime
Our entire platform runs in real-time, so the moment something gets posted, it'll appear on your website immediately, Or, if you've opted to moderate your wall, it'll appear in your moderation console instantly for you to approve it first, and then get displayed as soon as you approve it.
Pricing
Social Media Hubs are included free with all Social Walls for Events and all  Ongoing Social Walls. If you only want the Social Media Hub and don't have a need to show it on a screen at an event or your office, then you can get it stand-alone (à la carte) starting from $19 per month.
Yes, like all great things in life, our service is not free. In order to monitor Twitter, Instagram, and all the other sources we monitor, we have to run a lot of servers. And then, to have a fully redundant infrastructure that can reliably deliver the Social Media Hub to your end users quickly, it takes even more servers scattered throughout the world.
What you get by paying for Everwall is peace of mind that our service will not go away, that it's reliable no matter how much traffic you get, and that you can completely control the content—which every free solution out there lacks.
Are you a non-profit, educational customer, or with any government organization? If so, we offer a 20% discount. Find out more here.
How does it work?
Well, it's easy as pie.
Decide if you want to display a Social Wall on screens, or just embed a Social Media Hub.
If you want to display a Social Wall on screens for all to see, in addition to on your website, you'll want to build an Event Social Wall or an Ongoing Social Wall. When you're done building that, you can easily create the Social Media Hub for free using the same social media content.
If you only want the Social Media Hub, then go straight to building the Social Media Hub for your Website (Some call it a Hashtag Feed Embed) from the New Wall window.
Build and customize your hashtag feed embed
After you have built your wall (if you build an Event Social Wall or an Ongoing Social Wall), you'll see a link in the left menu called Embed, and that'll take you to our Social Media Hub builder so you can embed your social media hub onto your website. Or, if you're building just the embed, you'll be taken right into the builder.
There are two types of embeds that we offer, the first is a stylized embed—which is the easiest to get started with—and the second option is what we call a raw embed.
When going with a stylized embed, you can pick several design options, but if you really want to stylize it an know CSS, feel free to go with the raw embed.
Embed it onto your website!
Once you've copied the code we provide and pasted it into your website's code... That's it, you're done—and, now you have an awesome Twitter or Instagram feed for your website!