Last Updated on July 10, 2022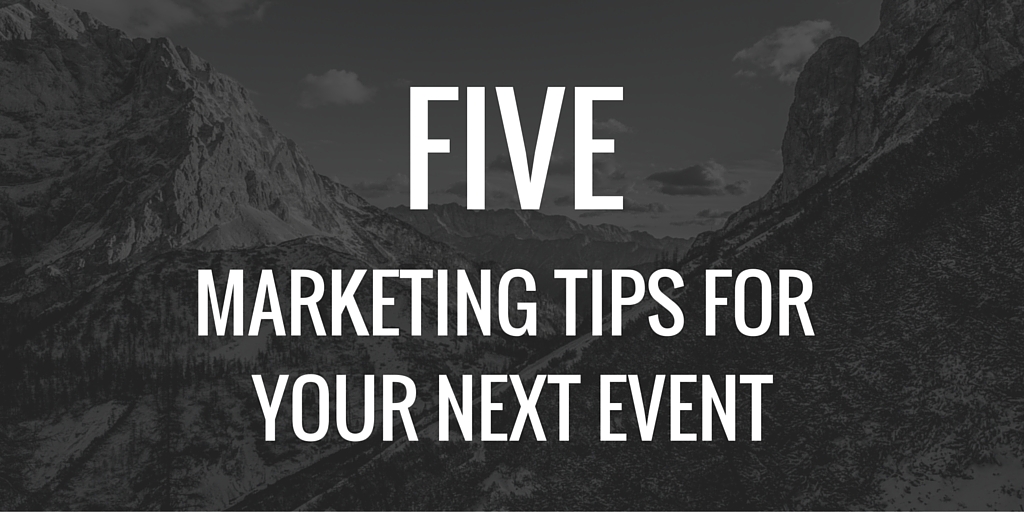 ---
The date is set. Your team is in place. The only thing left is to get the word out. Simply put, your marketing strategy will make or break the success of your event.
If you are unsure of how to market your event, it's best to start with the basics. Once you lay the foundation, everything will come together. From there, you can move into more advanced strategies as time and money allows.
Below are five simple yet effective marketing tips for your next event:
1. It Starts with the Event Website
It doesn't matter if you have a separate domain for the event or a webpage on your primary website, nothing changes the fact that this is the cornerstone of your marketing strategy.
This page should include the following:
Detailed description of the event
Agenda
Event related images and video
Pricing information
Register button and form
ALSO SEE: HOW TO CREATE AN EVENT PAGE THAT INCREASES CONVERSIONS
If you don't have an event website you won't have much luck from a marketing perspective. This is step number one, so do it now!
2. Get an Early Start
It is never too soon to market an event. While you may be skilled at working on a tight deadline, you don't have to put yourself in this position.
Believe it or not, the right approach could give you as long as one year to market your event and sell its benefits to your target audience.
STEP-BY-STEP GUIDE TO PLANNING A SOCIAL MEDIA TIMELINE FOR YOUR EVENT
3. Use All Your Avenues
An event website is a good start, but it's just that: a start.
It's important to take advantage of every marketing strategy available. From social media to word of mouth to guest blogging, there are plenty of options.
Start by creating a list of potential marketing strategies. From there, list them in order based on priority.
Tip: If one marketing technique is generating better results than the rest, change your approach to ensure that you are spending your time and money wisely in the future.
4. Ask Your Team for Help
Marketing is not a one person job. Even if you are staffed with the primary responsibility of marketing the event, there is help to be had. Your team can provide you with the assistance needed to spread the word and increase reach.
The more people working together to market the event the greater chance there is that you will reach your goals.
5. Social Media is Your Friend
With billions of social media users throughout the world, it's a must to use this to your advantage when marketing an event.
Twitter, Facebook, LinkedIn, and Instagram all deserve your attention. For example, you can use Instagram to share images of past events. You can use LinkedIn to connect with professionals who may be interested in attending. And of course, you can use Twitter and Facebook to reach your target audience in large numbers.
Conclusion
As you plan an upcoming event, take as much time as necessary to generate and implement a sound marketing strategy.
Do you have any other tips to add to this list? Share your thoughts in the comment section below.
There's more from where that came from...
« Previous Post
So you market for your next event and it's working! People are rushing to your landing page to get more information and purchase their tickets or RSVP.
Next Post »
Planning an event abroad can be a great idea, but here is something you need to remember: it brings forth a variety of unique challenges. If you are in charge of pulling off an event outside of the…