Last Updated on July 10, 2022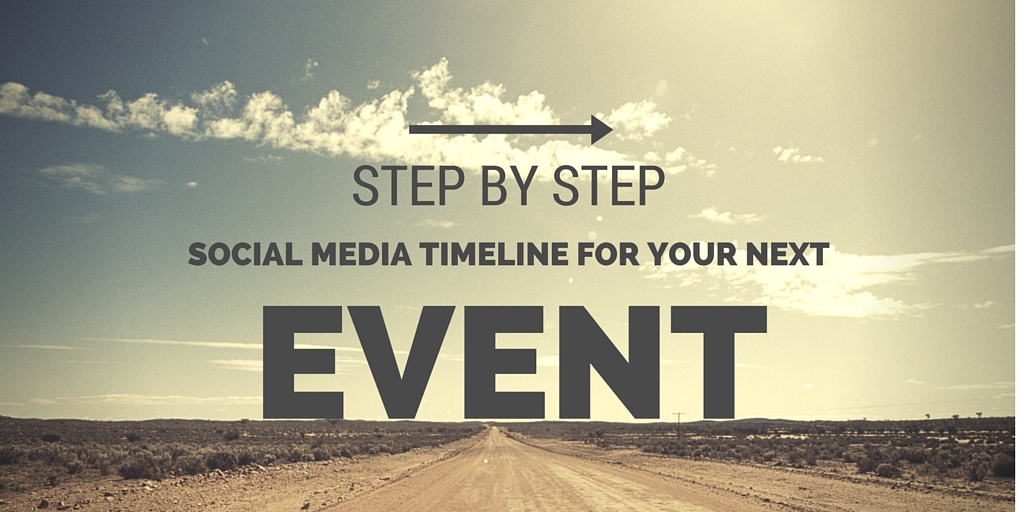 ---
A ton has already been written about the power of social media as a marketing tool, especially in the event industry. Few other fields can make such extensive a use of social networks, and few other industries have as much to gain from doing social right. While I'm sure you already know that social media is important, you might not yet be clear on how to create a social media timeline that ensures your next event gets the biggest boost possible from social.
Running an effective social event starts with proper planning. It starts with a timeline, one which covers everything from initial preparation to post-event wrap-up. And within that overall timeline, is where we're focused today—specifically, creating the social media timeline.
Before you get started planning your social media timeline
We'll start with a few steps you'll need to take care of before you start marketing. These are the basic foundational building blocks you'll need in place to be successful later on.
1. Choose Your Platforms:
While Facebook and Twitter are sort of blanket platforms, other social networks cater to different audiences. Is your event targeted mostly at millennials? Instagram and Snapchat are where you want to be. Business professionals? Go for LinkedIn. If you need help figuring this out, checkout which social platform is best for your next event.
2. Think About Your Brand:
How do you want attendees to see your organization? What sort of experience do you want them to have at your event? How do you want them to 'feel' when they see the event name pop up on their social feed? You need to answer these questions before moving any further—because the brand you want to convey will influence every other aspect of your event.
3. Assign Responsibilities:
Choose who you want handling your social feed, from now until the day of the event. In order to keep your messaging consistent, the team should remain the same throughout. If you're the one planning the event, then it likely shouldn't be you.  Who do you trust, and who will have the time?  If your event is large enough, you may find that having a person dedicated to this is the right approach.
And if you don't have the time, nor the budget to have someone help with it, here's an article about managing your social media on a bootstrapped budget.
4. Decide On a Hashtag: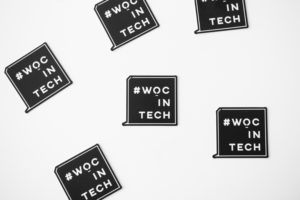 If you're live-tweeting your event (you should be!), you need a hashtag that's easily associated with your event. Make sure it's simple, short and unique. But most importantly, make sure it reflects something about your event—for example, #HRTechConf or #TEDTalks.
If your event is an annual event, you'll typically want to put the year onto the event, like #event21, so that next year you can do #event22.  This helps with letting people know that it's a current event, but it can also help you as the event planner, if you're into analytics.  Having the year attached means that you can pull analytics for each distinct year you're interested in.
Even if this is a one-off event, appending the year to the hashtag can still help.
However, if it's a series of events that happen more than once a year, or it's an annual event, but your goal is to keep the conversation going throughout the year, then maybe just doing #event is the best route?  We've also seen event planners that have annual events, but also want to keep the conversation going year-round, use both… they use #event for all related talks, and then annually during the event time use #event21.
Once you've picked out your hashtag, you can run it through a tool like Check My Hashtag to make sure it follows all of the best practices and that it's not being used by anyone else. You'll also want to manually check the hashtag on all related social media platforms, just to be sure.
5. Choose Your Event Marketing Apps and Tools:
Your next step is to figure out how you'll manage your social feeds before, during, and after your event. You need something that lets you post your own content and replies, as well as monitor whatever others have posted.
It goes without saying that whatever tool(s) you choose need to support the social networks you're targeting (picked during step #1 above).  You may find that you end up needing to use multiple tools to accomplish this.
Here's some common social media tools:
6. Create Social Templates:
While we don't advise to sticking entirely to a formula when posting on social (it has the tendency to make your posts look a little too mechanical), creating a generalized template for your posts is a good idea, as it will help your social team promote things more efficiently.
If using tools like Buffer and CoSchedule to schedule out your posts, it's easy to accidentally make all your social media posts sound the same.  Make sure you spend the time to customize each social media post that gets sent out. If you're not using tools like Buffer and CoSchedule, Hubspot has a great manual content calendar you can use.
7. Plan for Technical Difficulties:
What will you do if your hashtag gets hijacked? As much as you don't want to accept the possibility, people DO try to be annoying for events at times, and sometimes you're unlucky enough to have planned out your hashtags, only to find that another event did not, and now posts about their event are showing up at your event.  That can be really confusing.
What happens if your chosen social network goes down during the event?  It's rare now, but in it's early days, Twitter was known for this. Maybe its not a social network, but what if your event app goes down—have your primed the users enough so that they know they can use Twitter instead of the built in chat function? That they can go to certain places and see a map of the venue and where to go? Where they can get a copy of the speaking schedule now that the app is offline?
Maybe it's not the app or social network directly, but maybe it's the wifi?  Sometimes the last thing you think of is the first to struggle when there's thousands of people using it.
Technical difficulties can not only mess with your social media timeline, but also a host of other things happening at your event. Make sure you plan for these eventualities ahead of time.
The Pre-Event Marketing Push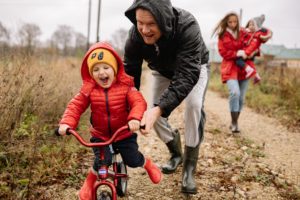 Now that you've taken care of your social media prep, let's talk about how you can promote your event.
1. Create Your Calendar:
The first thing from your social media timeline that you should get working on, is a content calendar. A content calendar is an extended schedule that dictates when you'll share content, and what content you'll share at any given day or time.
Ideally, you want to set your posts to go live during the key hours when your target audience is online, and likely to be looking at social media. You should know by now what those hours are from doing your research and looking at what timezone the event is in, as well as where people are coming from. In the day or two prior to the event, and during the event itself, you'll shift to focusing less on the timezones where people are coming from, to the singular timezone the event is located in.
While it's important that you create a calendar and stick to it, there's nothing wrong with a few extra social media posts here and there if you come across something really juicy.
Also, while I've listed the content calendar here in the pre-event section, you should be using it before, during and after the event.  It's not just a pre-event task. Again, CoSchedule and Buffer are great for this.
2. Promote Your Hashtag:
Every single post related to your event needs to have your hashtag included—that should go without saying. You need to spread your hashtag around before the event, so your community has a foundation upon which to base their discussions. Remember also that hashtags are not strictly meant for promotion—they're meant to foster discussion and help your audience find posts related to your event.
In addition to using your own hashtag, make sure you have plans for physical signage at the event to include your hashtag.  The more you can put the hashtag in front of people, the more likely they'll be to use it. It should be on random signage around the venue, at the checkin counter, on the show floor, maybe near stages… there's really no place it shouldn't be. We've even seen messages above urinals that included the event's hashtag. Ok, maybe that's a bit too far, but you get the idea.
3. Reach out to influencers:
Know someone with a lot of clout on Twitter who's interested in your event? See an Instagram model who's bound to share a ton of pictures from the show floor? Talk to them! Invite them to attend your event, or offer them some exclusive content for their blog/feed.
Influencers can be more than just random people with a social following—your speakers are influencers, sponsors can be influencers, industry blogs can be influencers. Think outside of the typical box to maximize the social media chatter about your event.
4. Stay Active and Conversational:
Remember, social media is all about the conversation. Don't just push out posts into the ether and expect a response—engage with people. Talk with your audience, not to your audience. Start conversations with prospective attendees, and invite people to share their thoughts.
When people post stuff about your event, at a minimum, you should acknowledge the mention with a like (assuming it's a positive statement).
5. Pay Attention to What People Are Saying:
The web is awash in stories of brands losing control of their hashtag to trolls—and then proceeding to repost scores of troll posts through their automation software. While it's important that you get people talking about your event, it's important that you also keep track of what they're saying. Make sure to not amplify anything that might be negative (but do take notes down, since ALL feedback is great feedback).
6. Gradually Ramp Up Event-Related Content:
As you move closer to your event date, start including more curated content related to the event—blog posts, infographics, pictures, conversations, videos; anything that will get people more interested should start showing up with greater frequency (but be careful that you don't spam people. Anything more than five posts a day is probably overdoing it).
When doing your social media timeline, think of these ramp points as goal posts… they'll likely be tied to specific dates, but you can move the goal posts around a little as they approach if things change.
Here's some simple ideas for some of your posts:
Announce event dates and the venue.
Announce Speakers.
Talk about the various tracks, if you have them.
Discuss the events around the event, like dinners, parties, and get-togethers.
Send registration reminders for the event.
Talk about your top-tier sponsors.
Have your speakers do 1-2 minute quick talks about their upcoming talk.
Do 1-2 minute hype reel style videos of the venue getting setup, or your team planning out things.
Hint at any major announcements, partnerships, or newsworthy events you're anticipating.
If it's a large event, post maps that highlight countries where people are coming from.
Being Social On The Event Floor
You've got people talking about your event—that's great. Now that the big day has finally arrived, how can you keep them talking? How can you help them connect with one another?
1. Share Quotes & Soundbites:
Have a team on the ground at your event, taking pictures and keeping an eye out for quotable statements that can be attached to pictures and videos. This is one of the best ways to hype up your event on the day of the event.  Great quotes will be liked, retweeted, and may just net you another attendee to your next event.
It can also be helpful to keep track of some of the best ones in a Word or Google Doc, so that post event you have some great quotes to pull from as you begin doing your post-event marketing.
2. Encourage Check-Ins:
Plenty of social networks now give people the opportunity to share their location when they make a new post, and you should encourage that. If you have a Facebook page dedicated to the event, they can also check in using that. However, while Foursquare and similar apps used to be a fun thing, these days, people are more private about their physical locations, so don't be surprised if you don't see too many check-ins.
Nowadays you can also give them the opportunity to check in using RFID/Bluetooth tags on the floor or through an event-related app. While you may only be able to surface the check-in using the app, one of the benefits to you, is the analytics it can offer you—but truthfully, there's not usually a benefit for the guests.  Consider offering a raffle or some kind of perks for check ins if you want to gain access to this kind of information.
3. Display a Social Media Wall:
Use a tool such as Everwall to automatically display event-related posts from the floor—the opportunity to appear on the screens for all to see will encourage a lot of participation. Make sure you curate it properly using the full moderation capabilities, though.
Will you be live-tweeting your event? Not only will having a social wall be a great choice for enhancing that, it'll encourage attendee connections, conversations, and community when people see stuff they can reply to on social media. Here's a short and quick article that explains some of the dynamics that having a social wall at your event can help with.
4. Listen to and Drive Conversation:
In addition to encouraging people to post and share from the floor on their own, your team should be actively conversing with people while the event is going on—did someone retweet a great joke? Let them know. Did they share an awesome snap? Give them a call out!
While reading the posts, pay attention to alternate hashtags they may be using, and then start monitoring those terms to.  When you reply to them, you can even use your preferred hashtag in the reply, which might nudge them to using the correct hashtags for their future posts (you don't—and probably shouldn't—tell them to only use the official hashtag)
Post-Event Wrap-Up
Your event may be over, but your social media timeline definitely isn't. Below is a list of a few things you should start on as things wind down, and there's also another article about that if you want even more ideas.
1. Ask For Feedback:
You'd be surprised how much of a response you can get from a simple concluding post. Something like "And that's it for #EventhashtagYY. Stay tuned next year – but in the meantime, how'd you enjoy it?" can generate a bunch of conversation once the show floor's emptied out.
It's probably a good idea to ask for feedback the evening the event concludes (so you catch them fresh and maybe bored in a hotel), and then a few times over the next 3-4 days.  Don't forget to take into account the time zone they're coming from again, and not just the event's time zone.
In addition to social networks, don't forget to send an email out to all the attendees asking for feedback, too. Using services like Reform and TypeForm are great for this.
2. Write Up Some Public Retrospectives:
Retrospective blog posts going over some of the key speakers/guests and their contributions can generate a lot of buzz on their own. Depending on the content length, you can usually do a post per presenter. Hopefully that team you had roaming the floor can provide you with some great quotes and photos from the talks that you want to highlight.
Once the blog post is published, make sure to blast it out to all of your chosen social networks.
And don't forget about the internal retrospectives.  No matter how successful your event is, you want to talk to everyone on your team, the speakers, and sponsors and discuss not only what worked well, but more importantly, what didn't work well.  This is a key trait that great event planners do after every event—learn.
3. Publish Slides, Videos, and Keynotes:
Embed content from keynotes into your posts using tools like slideshare or YouTube. If it's just a PDF, maybe allow people that are reading your blog posts to download them (you could even put it behind an email paywall, so you have a list to market to next year). This is a key part of the post-event process for any social media timeline.
This will allow people who didn't attend to experience your event, and give attendees the opportunity to share their experience with others.
4. Round-up The Best Third-Party Content:
Look through the posts people shared during your event, and add some of the best ones to your Facebook Page, Twitter feed, or Instagram – being sure to give credit to the original authors, of course. This is great for not just getting the word out, but social validation—if others are writing about you, it must have been good!
5. Give Thanks:
Self-explanatory. Thank people for attending, summarize some key points about your event, and let them know if/when any additional content (for instance, a published FAQ) will be available.
6. Keep Talking Until The Hashtag Dies:
Again, this is pretty self-explanatory. Continue watching for posts using your hashtag, and other keywords about your event on social, and continue adding contributions of your own until there's no more conversation to be had. If you're lucky, you can keep things going until the next event—you are planning on a follow up event, right?
7. Start Looking Towards The Next Event:
Look back over everything that transpired, and ask your team what you did well, and what you might do better. Start right away on building a plan that'll make your next social media timeline even better.
Are you ready to get started? We hope so! We hope this social media timeline is helpful, but if there's anything we can improve at all, let us know! Share it with your people, and don't forget to include your feedback in it as well.
There's more from where that came from...
« Previous Post
With more than 400 million users, Instagram is now bigger than Twitter. While the social media platform has remained relatively the same since day one, things are now getting interesting in a hurry.
Next Post »
Networking is a key part of building a personal brand. The more people you know, the better. You never know when you may be able to help each other out on a project, get hired by a company, or even…