Last Updated on October 14, 2022 by Joel Strellner
---
In this feature overview, I am going to go over Everwall's customizable social wall—including all the design options in our self-service builder, how to customize your social wall even further if you're a developer or have one available, and finally, if you know what you want but are unsure how to get there, how to enlist our design team to custom build you a social wall template.
This is going to focus strictly on the design side of things with our customizable social wall, Everwall.
Customizing your social wall with our self-service builder:
When building a wall using our self-service builder, the very last step is where all the magic happens and you get to make the wall perfectly match your event. It's really easy to do, but there are quite a few options.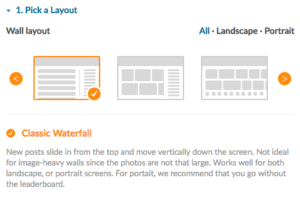 Layouts
The first thing you'll pick is the layout you want to use. We currently have 12 layouts to choose from, and they are all scaleable, so whether you have an old school projector that uses a 1024×768 resolution, or a 4k flat panel display, your social wall will look great.
7 layouts are specifically meant for landscape orientation
2 layouts are for portrait-oriented screens
2 are designed for TV applications and let you use Chroma key so you can overlay your video (ticker and lower third)
1 is completely blank, just for developers to custom build whatever they want.
The Title Bar
The Title Bar is basically the social wall's header, but we call it the title bar because it can not only be on the top of the wall, but it can also be on the bottom of the wall. And, depending on the layout, it can sometimes even be on the left or right side of the wall.
There are a number of options here, but this is where you'll upload an event logo, choose if you want the title bar to be on the top or bottom (or maybe left or right), set the background and text colors, hide our branding (in the title bar is the only place our social walls have branding, and it can be removed), and last, but not least, set the displayed hashtag.
The displayed hashtag is very important. It's the place that you tell people that see your social wall what hashtag they should use to appear on it. It is free-form text, so you can make it say anything, but it's almost always your main event hashtag.
The Social Wall's Background
All of Everwall's social walls let you customize the background, and this is where you do it. it can be as simple as just changing the color, or you can also upload an image. If you upload an image, you can also set the positioning of the image, if you want it to repeat or be stretched, and the opacity of the image. The opacity lets you blend it into the wall so it's not distracting. If you upload a background image, another option you'll want to consider is having opacity on the post backgrounds themselves, so you can actually see the image you uploaded.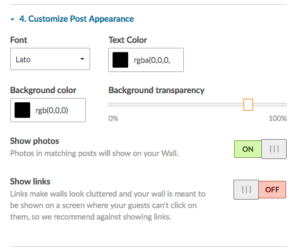 Post Appearance
Posts can also be styled on your wall. We currently support 19 of the most popular fonts around for you to select from. No matter what your event style, you can be sure that one of them is going to be perfect for your event.
Just like the title bar, you can also set the text color and background color of the posts. Setting the transparency on the background will let your background image show through, and add a nice touch of polish to your social wall.
This is also where you can opt to show photo's with your post (recommended), and show or hide links from your wall. By default, showing links on your wall is turned off. Now, why would we do that? Because it clutters your wall, and for most events, the wall is not being interacted directly with at the event—it's on a big screen for all to see. Since you can't click on them in that environment, why would you show the links and clutter the experience for your event's guests? Exactly.
Miscellaneous Options
The last area we're going over today is the Miscellaneous Options section. This is a bit of a weird one to explain since it changes based on the template you go with. However, nearly every template will have the option to show a leaderboard here. Leaderboards are awesome and are one of our defining features—sure, they've been copied by some of our competitors, but we do it right—and we invented them, so I would hope you agree.
We currently have three leaderboards to choose from, if you decide to show one at all. The three leaderboards are the Engagement leaderboard, the Interactions leaderboard, and the Followers leaderboard.
The Engagement leaderboard requires people to get other people to reply to or retweet their Tweets and is the least susceptible to users gaming it because they can't directly manipulate it. It is best used on Twitter-focused events since Instagram and Slack only have replies that can count towards this.
The Interactions leaderboard counts each time that a user gets a post displayed on your social wall, and counts it as another vote on the leaderboard.
The final option that we offer is the Follower leaderboard, and this one just ranks people by the number of followers that they have, and for this reason unless your goal is to show off the most popular Twitter users—like celebrities—that are participating, it's not likely to be what you'd want to use for your event.
The other option that nearly all walls will have here is a language option.  We support nine different languages you can use for your default wall.  If you'd like to learn more about them, you can read all about our social wall's language support here.
Additional Design Options
The above may sound complicated and lengthy, but you can actually walk through the design step of the builder in about 5 minutes and end up with an awesome social wall.  There are two more things I wanted to point out, though.  With Everwall you can actually customize it much further than our self-service builder allows.  I know you probably didn't think it was possible to get even more customized after reading the above, but there is.
For Developers — Customize the HTML, CSS, and Javascript
Yup, if you've got a development background, you can actually inject HTML, CSS and/or Javascript right into your social wall to make it as customized as you want.  We'll even host any image assets you want to use.
Another thing that is great, once you've done this once, you can easily import the design you create into future walls you do—so reuse it as much as you can!
If getting all nitty gritty in the code isn't your thing, then:
Go All Out — Use Everwall's Design Team
For those of you that just want an awesome wall, but don't feel like going the self-service route, and don't have the coding chops to build something custom, our design team can help you.  Right there on the design page of our builder, in the top right, there is a button to purchase a social wall template from us.  We'll speak with you over the phone, learn everything about your event, get assets from you and then design you a unique template you can use for any events you use on our platform.  There's just a one-time charge for it, too.
Wrapping things up
This post ended up being a lot longer than I expected, and if you got this far, bravo!
There's more from where that came from...
« Previous Post
Ever since we announced our 2017 major update, we've received quite a few inquiries about the new language support in our social wall platform, Everwall.
Next Post »
Swag can be useful, and actually worth it to handout—here's how… It's an experience which is familiar to all of us in the event's industry—while attending a trade show or conference,…