Last Updated on August 19, 2021 by Joel Strellner
---
Today, we're very excited to announce something that we've been working on and have been looking forward to announcing for quite some time—Tweetwall (now named Everwall) and Eventbrite have partnered!
Both Tweetwall, and Eventbrite are determined to make your events the best they can possibly be, for us, it's about making events more social and engaging, and for Eventbrite, it's by making it easy for your attendees to register and attend your event.
Getting started with creating a Tweetwall is really easy, all you have to do is connect your Everwall account to your Eventbrite account and then when you create a Tweetwall, we'll automatically pull in all of your event's details.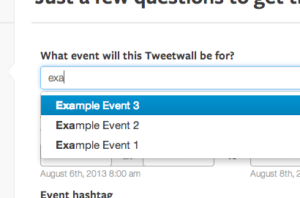 If you already have a Everwall account, you can easily add Eventbrite to your account. To do so, just login via Eventbrite.
If you'd like to find out more about our social walls, and how they can work with Eventbrite to make your events better, go here.
Update: Eventbrite has written a blog post announcing the partnership as well.
There's more from where that came from...
« Previous Post
It's no secret that events are social in nature. Whatever the event may be, tens, hundreds or thousands of people are gathering together to interact and learn about a specific cause, idea or…
Next Post »
Back in the 1960s, sociologist Marshall McLuhan expressed some downright revolutionary insights. Technology, he explained, would one day advance in such a way that the whole world would be…