Bring Webex into Everwall. Or, show your Social Media in Webex.
Two types of integrations, but one complete solution. Use one, or both, and make your next meeting thrive.
Display conversations in Webex Spaces, anywhere.
When you connect your Webex account to Everwall, you can show posts in any Space you have access to on screens at events, on ongoing signage at your office, and you can even display Webex chats on websites.
You tell us which Spaces you want to show, and we do the rest. We'll show the post text, image—if it's included—and who posted it.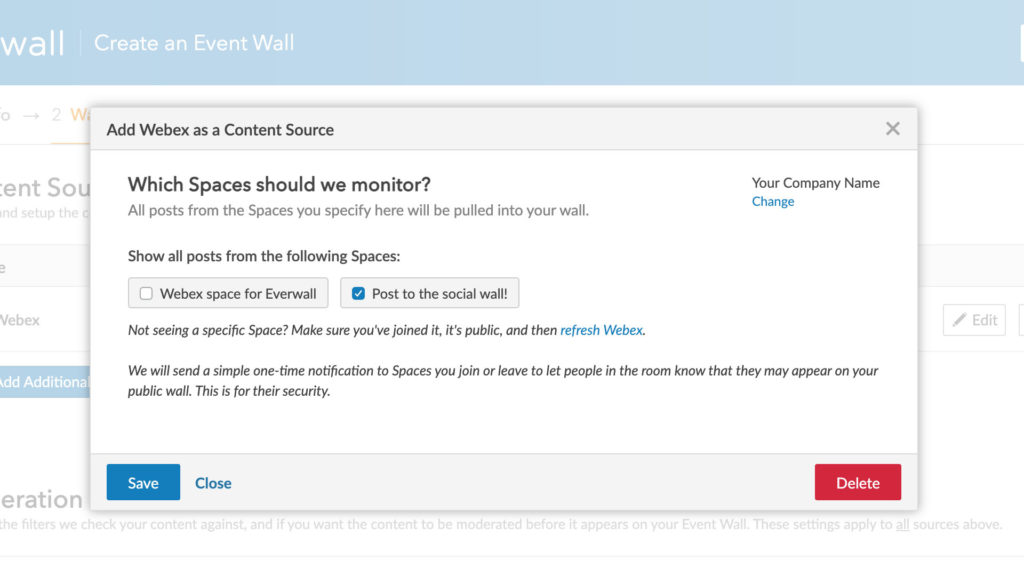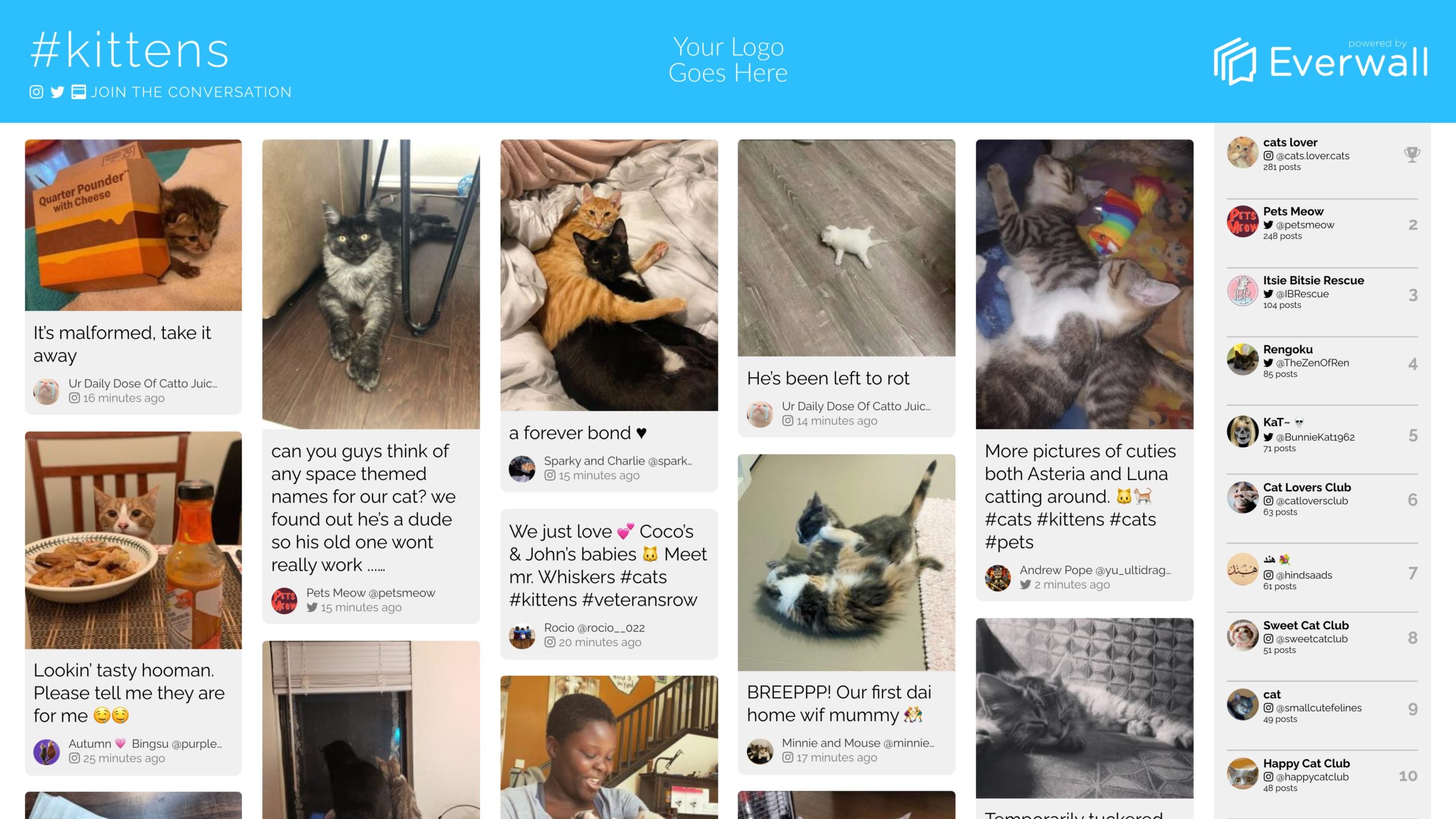 Show Webex alongside other social media providers, like Twitter, Instagram, and more.
With Everwall, you can mix and match any content sources we support, into one Social Wall that can then be displayed at an event, on ongoing digital signage, or even on your website. And if you want to show just Webex, you can do that too.
Be as private, or social as you want to be.
Not only can you bring Webex into Everwall, you can also bring Everwall into Webex.
Using Webex's Embedded Apps capabilities, you can now show your Social Walls inside your Webex app. Display it as a tab in one of your Spaces, or share it in the Apps side panel when you're in a meeting.
So, whether you're doing a webinar and want to share the conversation around it, or you just want to show what's being said in one of your Spaces to the team, now you can.
To get started, click on the Apps button, then Everwall, and finally log into your Everwall account. Once logged in, you'll be able to select the Social Wall you want to show.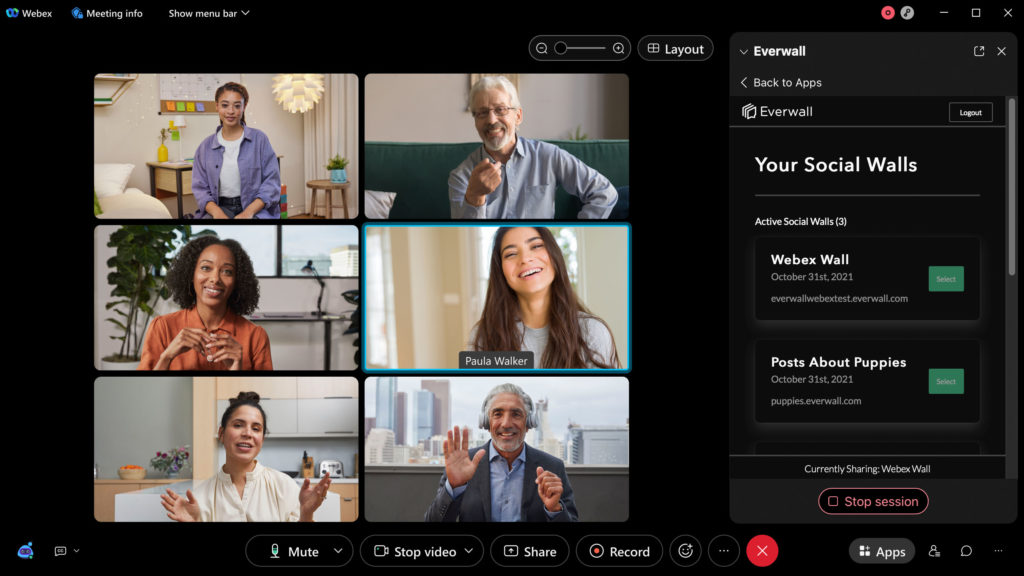 Tens of thousands of companies trust Everwall for displaying social media at their events.
Here's just a few.

You control which posts are shown.
All social walls on Everwall include filter-based moderation. Or, if you need it, you can add full moderation.
Whether you enable full moderation or not, you can always remove posts at any time. No need to worry about if someone accidentally posts something they shouldn't have.
Also, if your team member posts something to a Webex Space that is being pulled into Everwall, and then deletes it, we'll automatically delete that post from Everwall, too.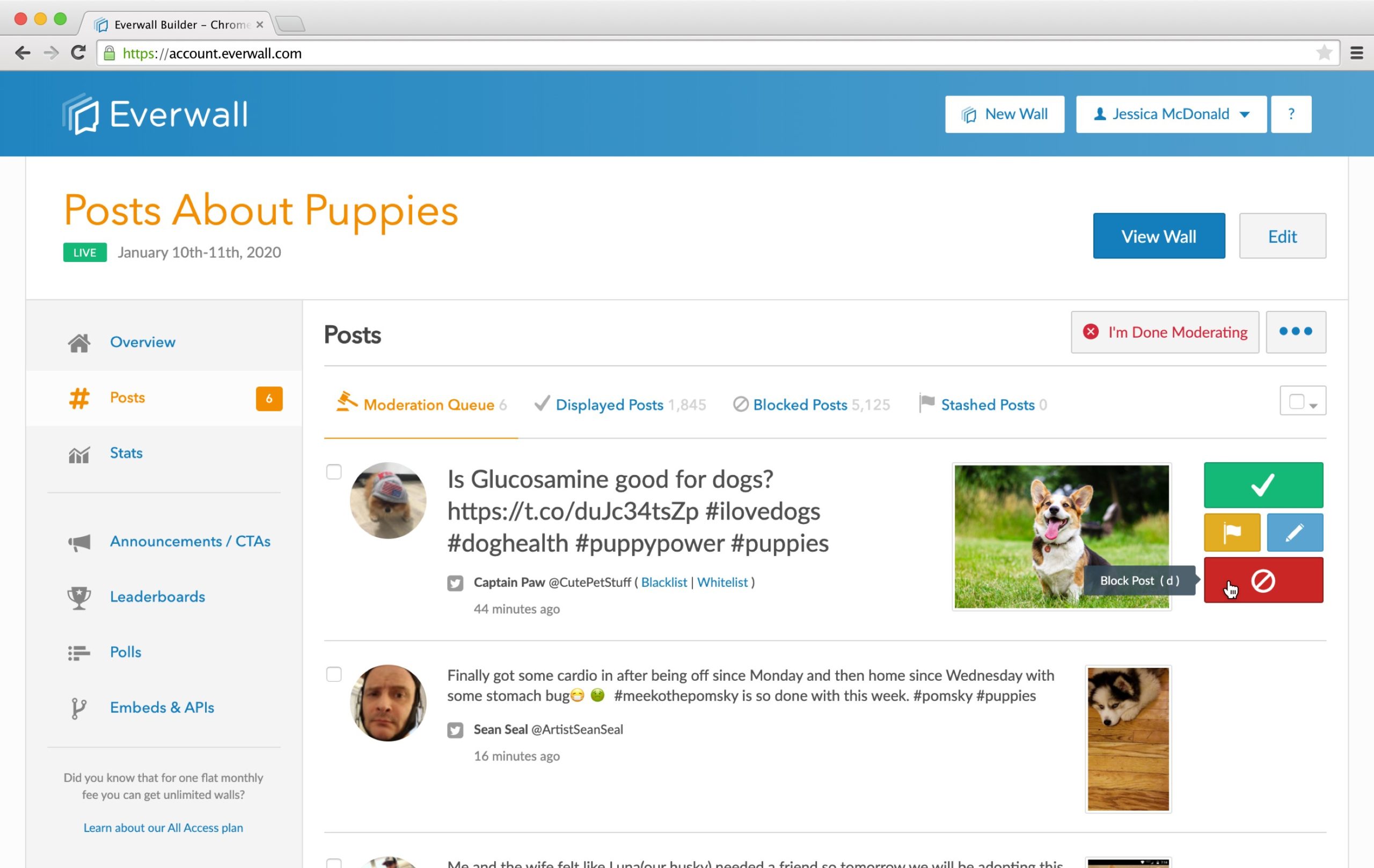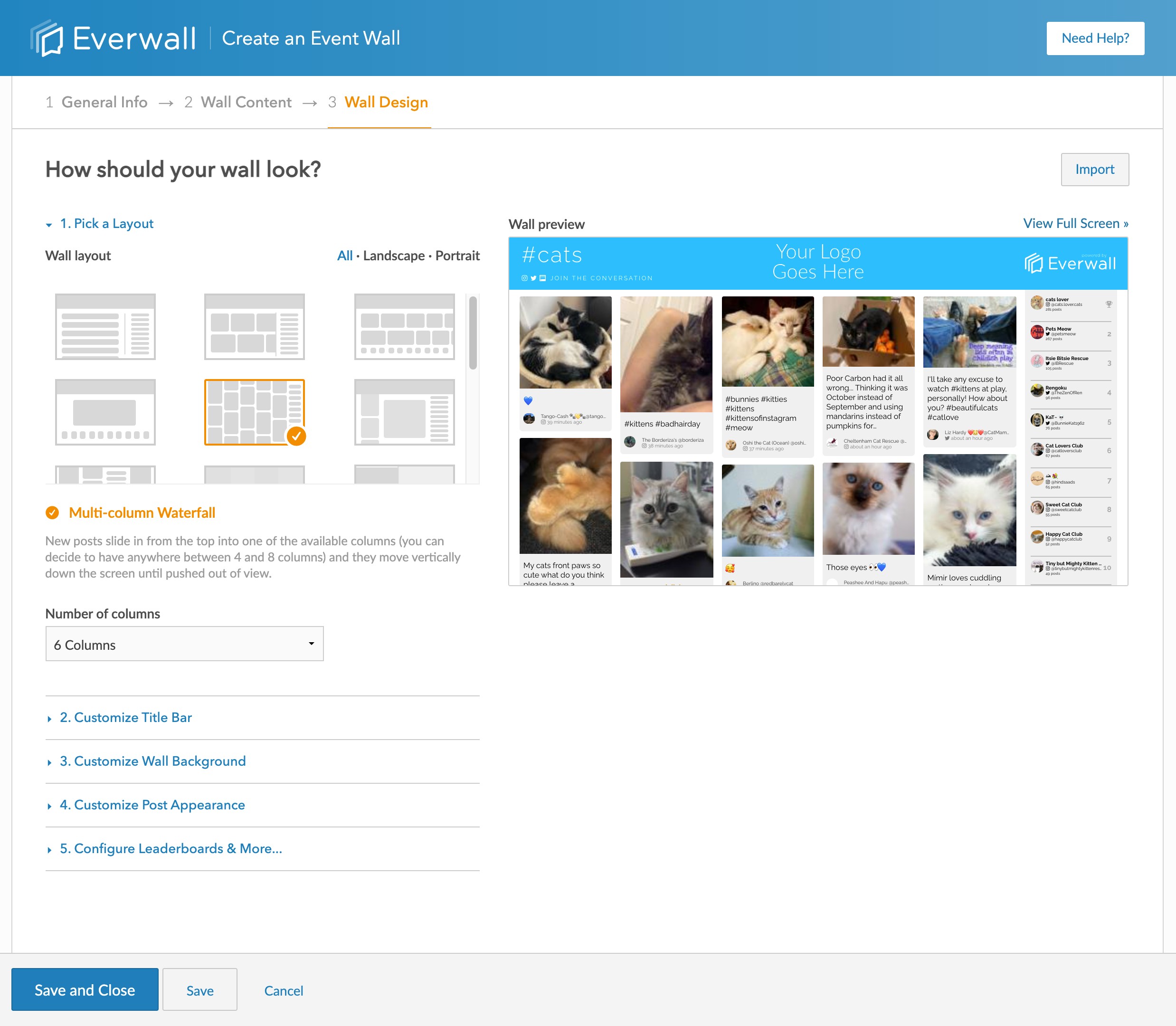 You decide how the Social Wall looks. We're fully customizable.
Every part of your Social Wall is customizable. Pick from 13 beautiful layouts to start, then change the colors, fonts, and add multiple logos to make it a true and natural extension of your event experience.
And if that's not enough, we even let you add your own HTML, CSS and Javascript if you want to really customize it. Or, you can have us build you a custom template, too.
Truly Reliable
Never worry about your social wall—it's truly a set-it and forget-it thing. Lose your Internet connection? No problem, it will automatically fix itself when it comes back up.
Completely Real-time
Like everything else on Everwall, Webex messages are displayed on your social wall in real-time. As soon as they're sent, they're checked, and then displayed (or added to your moderation queue).
Leaderboards
Show the top participants ranked by post engagement, times they mention your hashtags, or by how many followers they have. Your guests have never been so engaged at an event.
Webex FAQs
How do I display posts in a Webex Space on my Everwall Social Wall?
To display content from a Webex Space on your social wall, first, create or log into your Everwall account, then either create a new Social Wall or Edit an existing one. When you get to the Content Sources section of the builder, select the option to connect Webex. Then, after you've connected Webex to Everwall, pick the Spaces you want to appear on your Social Wall.
How do I display a Social Wall inside Webex?
If you want to add it as a permanent tab in a Space, click on the + Apps button, then select Everwall, and finally log into Everwall and select the Social Wall that you want to display. If you're in a meeting view, click the Apps button, and then pick Everwall, and finally sign into your Everwall account and pick the Social Wall you want to display. When you're ready to show it to the other participants, click on the Open Together button.
What are some ways I can use the Webex Embedded App?
There are many ways you can use the Embedded App, but here's just a few ideas:

The Embedded App can become a tab in your Spaces, and because Everwall monitors social media to show on social walls, you can use our app to monitor brand mentions, and then show those messages right inside your Spaces.
When Embedded in the meetings view of Webex, you can show it off during meetings or webinars so everyone can see the chatter about the event.
During meetings, you can use Everwall to power your Q&A's, or to gather feedback from your team.  Just setup a Space dedicated to it, and when you're ready, ask people to post their thoughts there for all to see.  You can even combine this with moderation to show only the messages you want to share.

Does the Webex integration, or Embedded App, cost anything extra to use?
No, it is included as a free additional feature of Everwall and Webex. However, there are costs for the Social Walls themselves on Everwall, and you may have your own subscription to Webex.
When I click on the Apps button in Webex, I do not see the Everwall App, why?
If you are part of an organization and you you do not see the Everwall app, it needs to be approved by one of your Webex organization's administrators. They can find and approve it from within their Webex Admin area.
Can I trial either the Webex Integration or the Embedded App before purchasing anything?
Yes, on Everwall you can create a Social Wall and trial it for up to three hours prior to purchasing it. Webex has free and paid accounts.
I still have more questions, where can I get help?
You can search our FAQs for more questions related to Webex, or you can reach out to our support team if you can't find your answers there.
Learn more about what we offer.
No matter what your social wall needs are, we've got you covered.
Ready to start building your Social Wall?
It takes less than 10 minutes to create your own fully customized Social Wall that displays posts from your Webex Spaces. Create an Everwall account, then connect your Webex account.