Ongoing Social Walls are the way to show a social wall year-round.
Some people call this social media digital signage... we just call it pure awesomeness.
Designed specifically for long-term usage.
Whether you have one screen, or hundreds, an Ongoing Social Wall is the easiest way to display social media on your digital signage screen all year long.
You can keep it simple, and just show the social media posts you desire, or you can go all out and get a custom template and use the included value-added features like our announcements, live polling, and video or image overlays.
While we made sure that building the ongoing social wall, and running it are easy, we didn't stop there—we also made setup easy. You can use a computer, just about any Chrome device (like a Chromebit or Chrome Box), or most digital signage players to display it.
Really awesome for the office.
Using an Ongoing Social Wall in the office is a great way to keep people in the know.  You can show messages from your internal Slack channels, a Web Form, or even Email. Combine office friendly sources, along with features like Announcements and polls, and you've got a great way to increase team communication.
Oh, and did we mention you can show it on as many screens as you want, all for the same price?
Social media, from everywhere it matters.
Pick any number of hashtags, keywords, phrases or @users to watch for, on any of the services that really matter today. We'll watch all sources vigilantly and instantly show matches on your wall. Posts from multiple sources can be shown on a single ongoing social wall at the same time.
Build it yourself, or get it professionally designed by us.
Every part of your social wall is customizable. Pick from 13 beautiful layouts to start, then change the colors, fonts, and add multiple logos to make it a true and natural extension of your event experience.
And if that's not enough, we even let you add your own HTML, CSS and Javascript if you want to really customize it. Or, you can have us build you a custom template, too.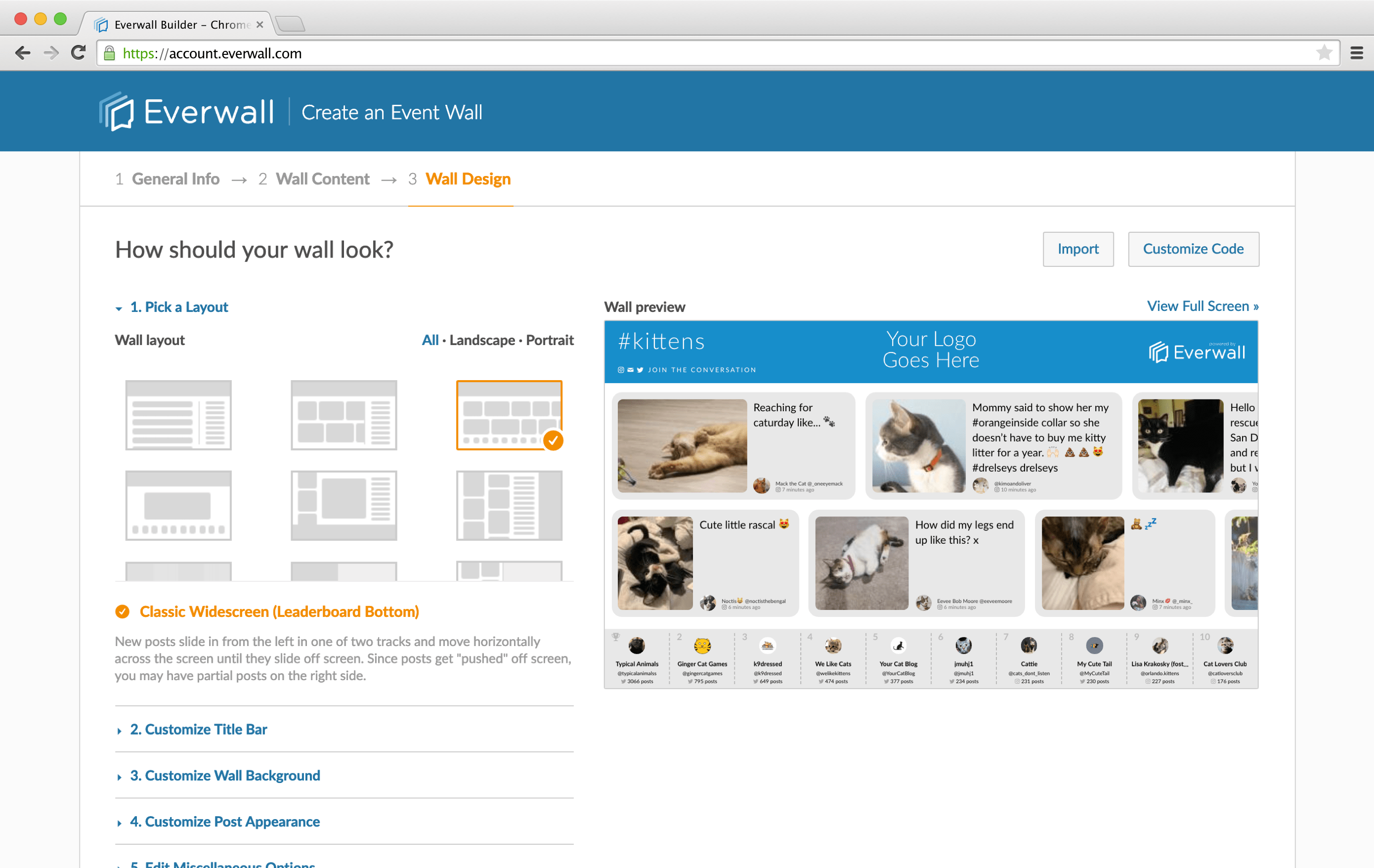 Keep Attendees Informed
Post announcements to your social wall—either manually or on a schedule you define—and keep your attendees up to date.
Take a Vote
Create polls, and let your attendees vote via any enabled source and see the result real-time on your social wall.
Real-time leaderboards keep your employees engaged.
Showcase those interacting with your social wall using one of our three leaderboards. They'll feel rewarded for participating, and engagement flourish from not only seeing their posts, but also by seeing exactly what they need to do to take the crown from the current leaderboard leader.
Advanced Filters
Automatically block posts with our profanity filter, trending topic filter, or choose from several others. Additionally, each source has its own blacklist, whitelist and source specific filters to help you automatically manage posts per source. We make managing your social wall easy.
Easy-to-use Moderation
Are you worried that an inapproriate post might get through? Our optional Full-Moderation allows you to review posts before they go live. And in case you don't have someone on your team who can moderate your wall, we have moderators available 24/7 who can do it for you.