Can I show social media on the Zoom Digital Signage solution?
Event Walls
Social Media Digital Signage
Social Media Hubs
Yes, you can use the Zoom Digital Signage solution to display your Social Media Digital Signage by Everwall when your Zoom Room Digital Signage screen is not in use. You can also create Digital Signage only Zoom Rooms so you can easily manage your screens via Zoom that are not in conference rooms.
Everwall displays social media on screens at events, in offices, and on websites. For the purposes of showing social media on screens in your Zoom managed Rooms, the key offering we have that makes it possible is our Social Media Digital Signage solution. By using our Social Media Digital Signage solution, your Zoom Rooms can display Twitter, Instagram, LinkedIn, WebEx, Slack, and several other platforms whenever your conference room is empty.
Social Media Digital Signage can be shown on unlimited screens, whether they're Zoom Room powered or not.
Not only are they great for showing social media posts on your Zoom Room Digital Signage screens, they also open up additional options that are great to have, like our announcements feature that allows you to use the screens to display announcements company-wide.
How to setup Everwall to work with your Zoom Digital Signage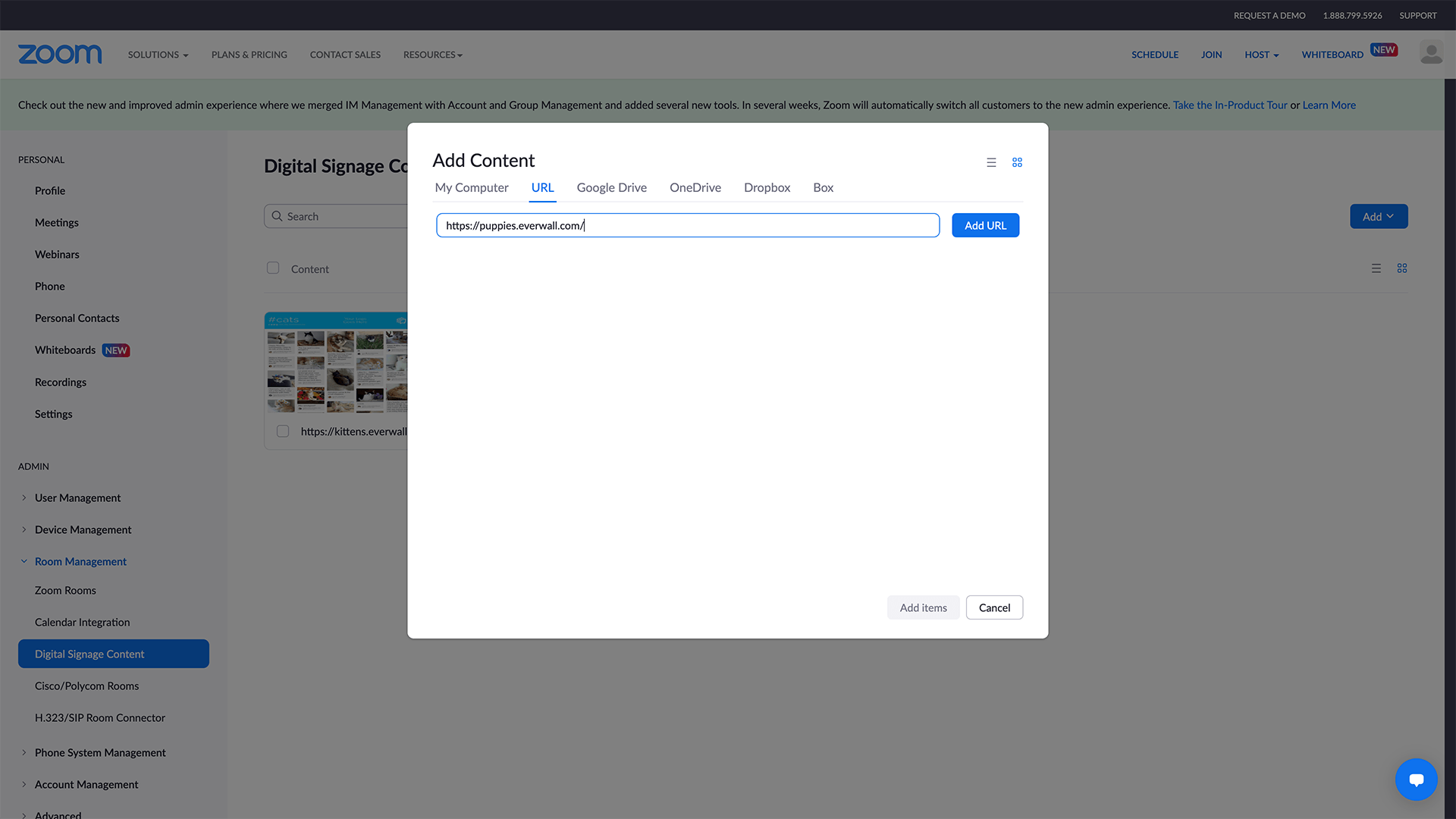 ---
To setup Zoom Digital Signage to show your Everwall Social Wall, you'll want to do the following:
In the Zoom interface, go into your Zoom Rooms, and then pick the location(s) where you want to show your Social Wall on the Zoom Rooms Digital Signage screen.
Click on Edit
Now, click on Display Content
And finally, click Add Content, which will let you add the Everwall URL.
On the pop up modal that appears, type the Digital Signage URL into the field (you set this on the first step when creating your social media digital signage), and then click on the Add URL button.
After the preview appears, click on the Add 1 Item button at the bottom.
Finally, click on Save Changes.
For Digital Signage Only Zoom rooms the process is the same, however you'll have to already have the Digital Signage Only group created.
For full details on how to configure your Zoom Digital Signage to display Everwall, you can go here.
---
FAQ last updated on May 29th, 2022
Still have questions? Get in touch.