Published on May 31, 2019
Today we're excited to release a major update to the Stats we offer on all social walls. Not only is it faster at displaying the charts and data, it offers a ton more details you've been asking for, like being able to display hourly data when looking at a single day, showing the number of unique participants, and seeing which content sources (Twitter, Instagram, etc) are being used.
In addition to those new data points, we're also exciting to be showing you the languages your posts are written in.  This is something that's been in the works for well over a year and included us going back and categorizing every single post on every single social wall… Yes, that means that no matter when your social wall was, it now has all of the new data.
Finally, for live events, you'll now see that your data updates in real-time.  So, while your event is happening, head on over to the stats page and you'll get a real-time view into the activity around your wall.  Oh, and if you don't want to see it updating, that's just a simple checkbox away to disable it.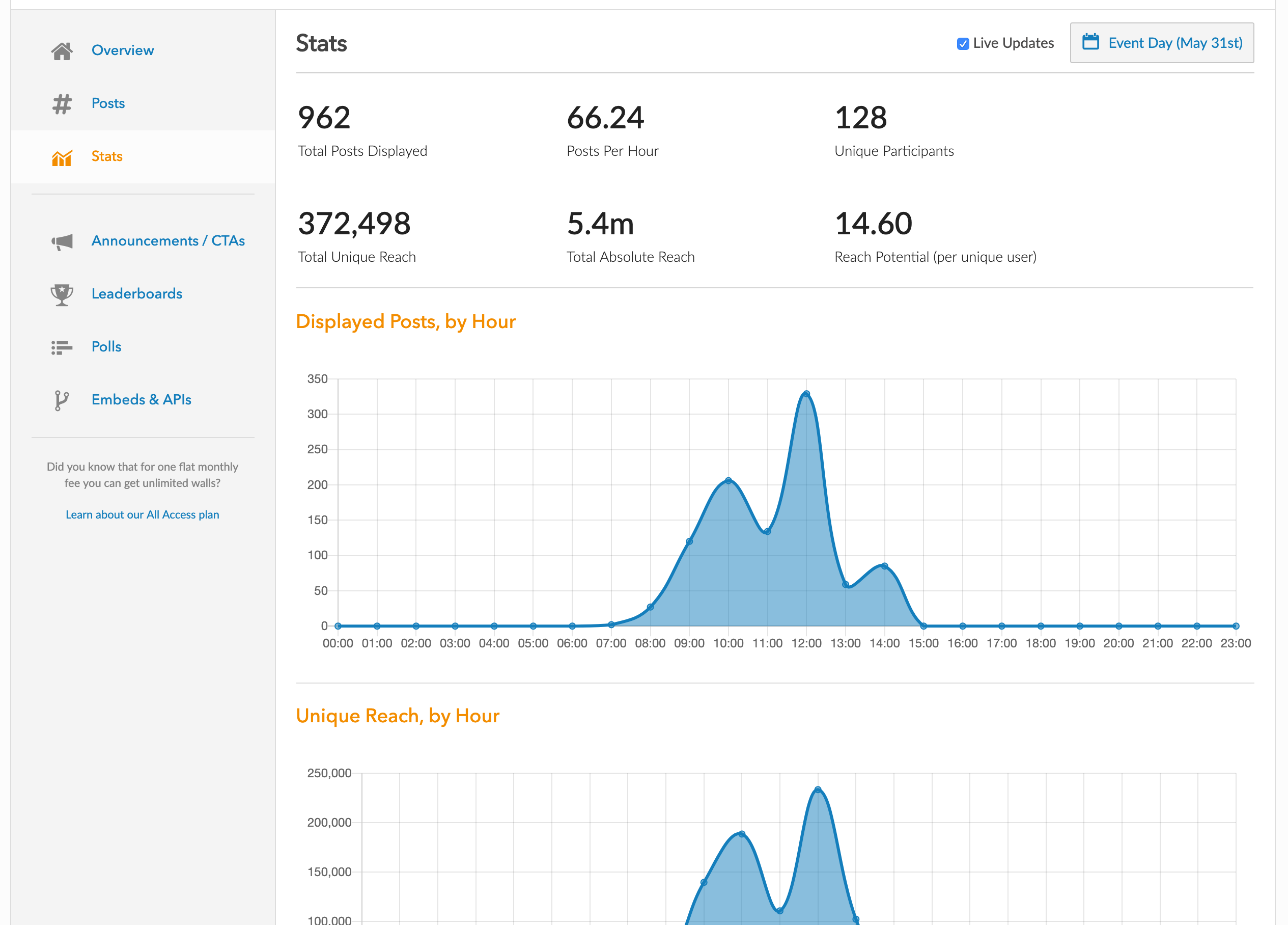 We're really proud of this newly updated feature, and hope it helps you gain better insights into your events powered by Everwall.
Looking for more to read in our Changelog?
Polling Changes
Today we rolled out a number of changes to Polling, primarily targeted to support future features, and providing a few nice options for our Full Service team now. Our API now supports the ability for custom integrations to log votes for categories in a poll. In other words, we can now build touch screen voting into your full service walls, so your guests don't need to vote via Twitter or Instagram. They can use iPads / Tablets / Touch Screens to vote.
Revamped Instagram Personal Integration
Today we launched a newly revamped Personal Instagram integration (Instagram also sometimes calls this their Instagram Consumer offering).  This integration allows you to pull in posts from your own Instagram account.  This is not to be confused with the Instagram Business offering which lets you pull in public posts to Everwall by their hashtags or from your own accounts.
Or, view the most recent posts...