Everwall + Twitter = Twitterwall
Over a
decade ago

we invented the Tweetwall, also known as the Twitterwall.
Now we're Everwall, and it just keeps getting better and better.
What do you want to watch Twitter for?
Pick any number of hashtags, keywords, phrases or @users to watch Twitter for, and we'll pull them into your Twitterwall in real-time.
You can even pull in posts from Instagram, or other content sources, and we'll show those on the same social wall, too—right next to the Tweets we pull in for you.
Basically, your Twitterwall can be a social wall, if you want it to be.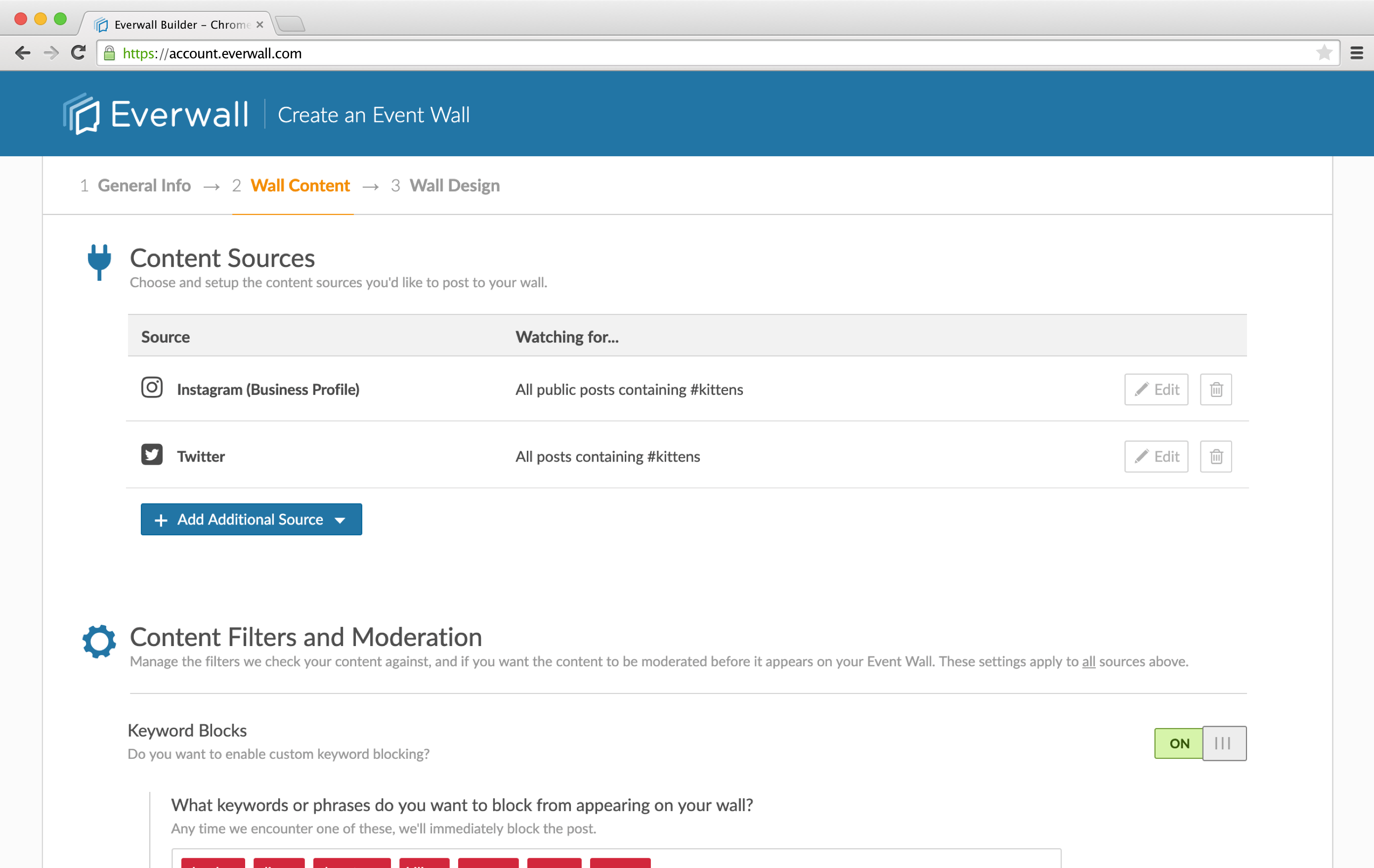 Truly Reliable
Never worry about your social wall—it's truly a set-it and forget-it thing. Lose your Internet connection? No problem, it will automatically fix itself when it comes back up.
Filters & Moderation
Easily filter out profanity, keywords or phrases, @users, probable spam and more. Display posts automatically, or after you've reviewed them.
Your social wall is under your control.
Leaderboards
Show the top participants ranked by post engagement, times they mention your hashtags, or by how many followers they have. Your guests have never been so engaged at an event.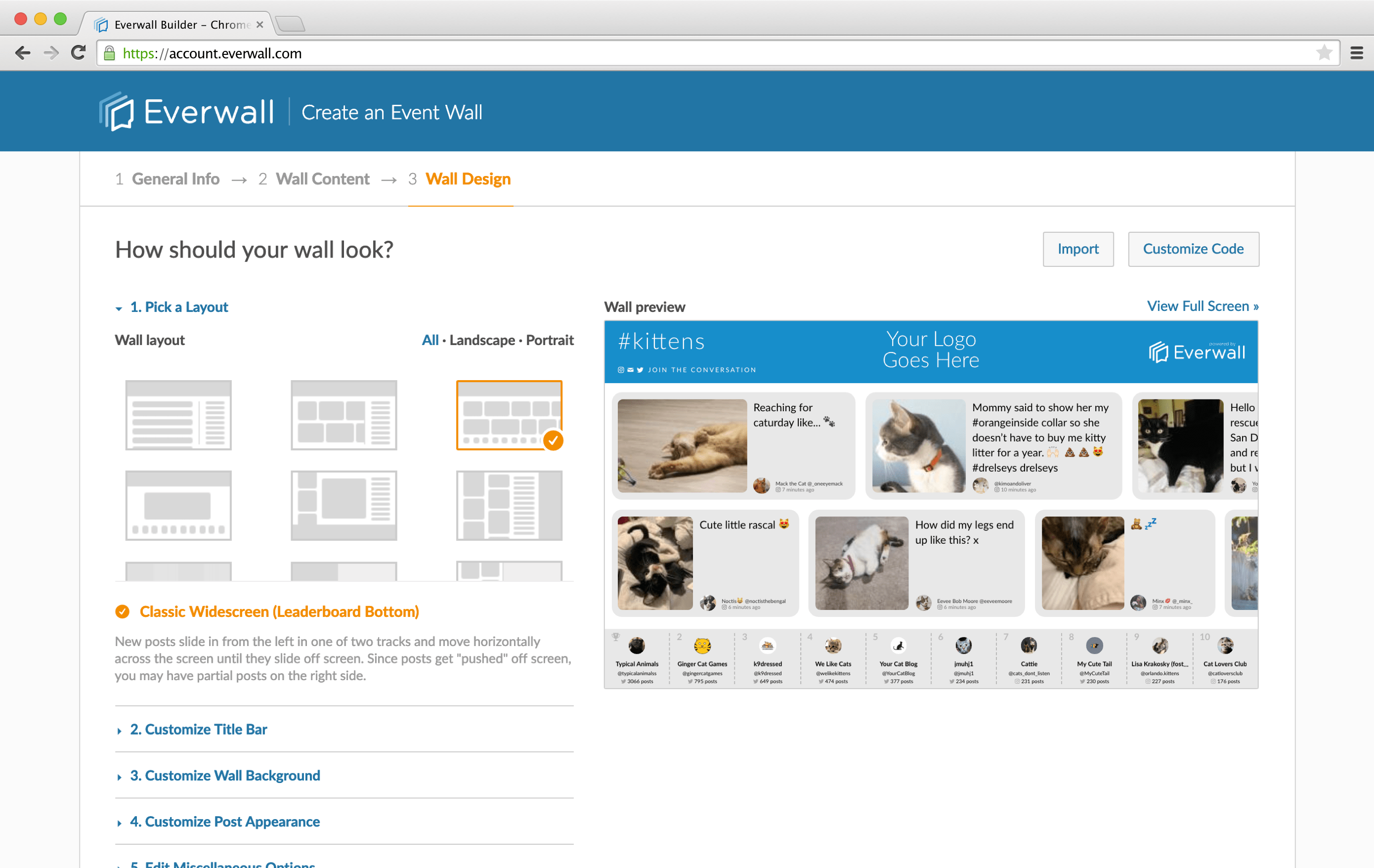 Completely Customizable
Every part of your Tweetwall is customizable. Pick from 13 beautiful layouts to start, then change the colors, fonts, and add multiple logos to make it a true and natural extension of your event experience.
And if that's not enough, we even let you add your own HTML, CSS and Javascript if you want to really customize it. Or, you can have us build you a custom template, too.
"I highly recommend Everwall! It is an affordable option that looks good and is very easy to setup and use. I really appreciated that we had access to the platform prior to event day and were able to "fill" the wall with content from before the event."
Courtney Douglas, Associate Director of Marketing and Communications, Temple University College of Education
Example Self-Service Tweetwalls
Self-Service Tweetwalls are custom built by you, using our online builder. Learn More »
Community College Cyber Summit

Washington Town & Country Fair

Analytics By Design Conference

Applied Electronics Golf Tournament

U.S. Chamber of Commerce

Big Brothers Big Sisters, Florida

South Carolina Chamber of Commerce

Charlotte Business Journal

Des Moines Public Schools

Cloudflare Internet Summit

V Congreso Ciudades Inteligentes

Miller Lite

MoneyLIVE

U.S. Department of Energy

Australian Information Security Association

Focus Travel Partnership

Ford Motor Company

ACFE Global Fraud Conference

Full Sail University

Get Your Teach On

International Motorsports

Instructure

Oliver Field

Premier Lacrosse League

Scholastic

RISE

Standard Bank

SchoologyNEXT

Social Media Day Tampa Bay

Surrey Fusion Festival

The University Caterers Conference

Uplift Education

WordCamp Kansas City

Yali Youth Dialogue
Learn more about what we offer.
No matter what your social wall needs are, we've got you covered.
Ready to get a Twitterwall now?
It takes less than 10 minutes to create your own fully customized Twitterwall.